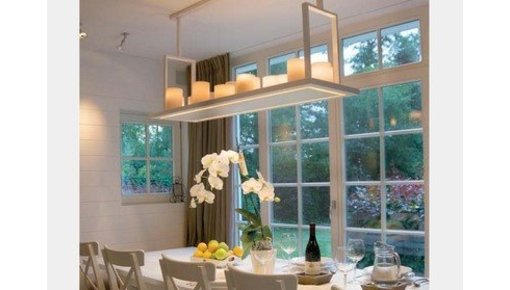 Dining lighting
Looking for a lighting fixture above your table? Look at our dining lighting! Exclusive choice! Excellent prices! 2 years guarantee!
Read more
Would you like to buy dining room lamps? At My Planet LED, you are at the right place! At My Planet LED, you find a whole range of dining lighting. Whether it's for use in your living room or in your office, at My Planet LED you will find the right track lighting!


Features of dining lighting
The dining room is the place in your living room where you spend a lot of cosy moments. It's here that you often enjoy a delicious meal with a tasty glass of wine, in company of family or friends.
The dining table takes a central place in the dining room, in combination with the chairs. A good table height with good sitting chairs are crucial in order to sit in a comfortable way.
Comfort is important but you create cosyness with complementary elements such as for instance the light.
Dining room lighting can be applied in several ways. You can choose between :
The light colour temperature determinates the atmosphere created by the dining room lighting. Warm white is the most popular light colour and has, to say it in technical terms a light colour temperature between 2700 and 3000 Kelvin. There exist also more warm white light colours, such as 1800 or 2000 Kelvin. These colours are mainly used with
LED filament lamps
. 
The lower the Kelvin degree, the warmer the light. Very warm white light creates a cosy atmosphere and is often used as dining table lighting.
The use of a dimmer with dining lighting is very popular because one can transform an intimate space to a practical space where it's useful to do daily work. 
Sometimes, a dimmer is integrated in the light fixture but sometimes, it must be installed external. In every case you have to check if the lamps or LED modules are dimmable.
Pendant light have several shapes : long, round, oval, rectangular. The shape of the dining table mostly follows the shape of the table but combinations such as a round lamp above a square table can also be nice.
The style of the dining lighting has to fit with the interior. We distinguish :
Railspots are easy fixtures to pend above the dining table. Nothing is so easy : you just mount the rail at the ceiling and afterwards, you can add as many railspots as you wish. This system of dining lighting is much applied in hotels and restaurants. The wattages are various : from 5W to 60W.
Nowadays, there are even dimmable
rail spots with an additional "dim to warm" function
. With this, the light colour temperature is nicely orange coloured when it's dimmed.
Ceiling lights are also often used above the dining table. They are mounted against the ceiling and are perfect if you wish to have a tight fixture.
They are mostly orientable and exist often in combinations of
different ceiling spot lights
.
Because they are fixed higher, they assure a more diffuse lighting. Of course, you can also choose spots with a smaller light beam which reach further.
Ceiling lighting is available in different shapes : long, square, round, rectangulare, oval,...
We also recommend that the shape of the ceiling light is in harmony with the shape of the table.
Do you wish to buy a distinct ceiling light, you can choose
ceiling lights with crystals or tentacles
.
LED downlights are nicely integrated in the ceiling and ensure that they don't get to much attention. All the attention goes to the decoration on and around the table. They are also perfect as dining lighting, are often orientable and available in different light models.
Light beams are available in different kinds : small or wide. The smaller, the further the light reaches.
Buy your dining lighting at My Planet LED

Besides the large choice of dining lighting we offer at My Planet LED, we have more to offer. We like to help you with our advice for track lighting. You can also find a wide range in our shop Woondesign at Ieper where you can find a lot of dining table lighting. With us, you buy definitely your favorite dining lighting. Are you not sure that it is suitable for your home? No problem : you can choose our 14 days return policy.


Would you like to have more information about dining lighting?
Do you have questions or do you wish to know more about My Planet LED? Do not hesitate to contact us! by phone (+32) 57 466 866 or by mail in order to gather more information about dining lighting.