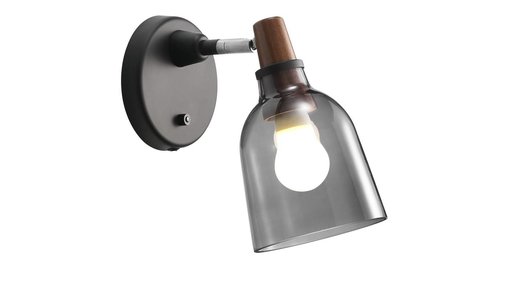 Glass wall lights
Looking for glass wall lights? Look at the wide and interesting range at My Planet LED ✔ 2 years guarantee ✔ Satisfied or money back ✔ Different styles ✔
Read more
Glass wall lights, both practical and atmospheric
Glass is a material that has been used in interiors for centuries. It is an incredibly durable material with the unique transparent appearance that makes an interior fresh and spacious. Glass has also been used for lamps since the introduction of the old oil lamp. The advantage of using glass in lamps is that it is very versatile material. A lamp can consist entirely of glass, but glass can also be part of a lamp that consists of other types of material. Glass wall lamps not only provide atmospheric lighting, it also makes the walls look bigger. A glass wall lamp on your wall exudes luxury, but also simplicity and fits in every interior style.
Types of glass
The versatility of glass shows that glass in all sorts and styles is used for glass wall lamps. The use of clear glass in glass wall lights gives a fresh and clear look. Especially when you are housed in a small room, wall lamps in glass make the room look bigger. Clear glass can be used in any interior, because it absorbs the colors used in the interior. Since wall lamps are primarily used for atmospheric lighting, you may also need glass that dampens the light. For example, smoked glass that gives you a cozy and warm brown tint. In addition, with colored glass you can adjust your glass wall lights entirely in the style of your interior. Glass wall lights are available in many colors of glass, so your wall lamps can form the eye-catcher in your living room. Very popular is the use of milk glass in glass wall lamps. Actually, this white glass is already fairly classic, but you do not have to have a classic interior style. Glass wall lamps in milk glass also do well in modern interiors. Take, for example, the Scandinavian interior where a lot of milk glass is used. What kind of glass wall lights you use, wall lamps in glass are always stylish.
Glass wall lights are easy to maintain
Besides the fact that wall lamps in glass are stylish, they are also very practical. Glass wall lamps are easy to clean. Glass will always have to be well maintained, because stains and fingerprints can always be seen. Whatever type of wall light you have, usually the glass is easy to remove, so you can clean the glass well. After cleaning, your wall lights look fresh again and you can enjoy the light to the full.
Buy your glass wall lights at My Planet LED
Why would you buy your wall lights in glass at My Planet LED? We are a service-oriented lighting shop and we deliver your order as well nationally as internationally. Our customers say we provide an excellent personalized service! 
It's not always easy to make a choice in a wide range. Therefore, we can help you with our advice. Contact us for more help.

The payment possibilities are versatile and secure! In addition, we are member of a quality mark which controlls if their members follow all the customer legislations. Do you hesitate about a glass wall light? No problem! You can use our 14 days return policy. This allows you to see if it fits well. And of course, you can count on the excellent service of My Planet LED. 

Unfortunately not all varieties of wall lamps in glass are available at My Planet LED. We keep you informed of the status of your order. After receiving your payment, we treat your order. 
Once we receive the glass wall lamp, we will inform you of the delivery.

Do you have more questions? Do not hesitate to mail us ([email protected]) or by phone (+32)  57 466 866 in order to obtain more information about glass wall lights.