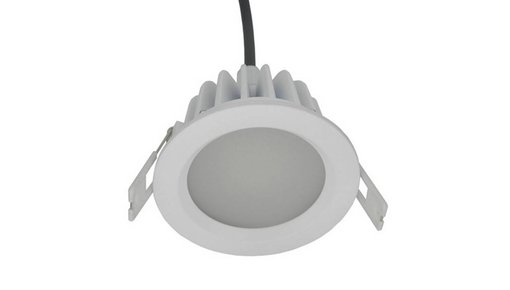 Bathroom downlights
Looking for bathroom downlights? Look at the wide and interesting range at My Planet LED ✔ 2 years guarantee ✔ Satisfied or money back ✔ Different styles ✔
Read more
Showering in luxurious light with bathroom downlights
Do you want a luxury shower experience in your own home and that in a safe way? This is possible with recessed spotlights for the bathroom. The advantage of bathroom downlights is that these are waterproof recessed spots. This makes them suitable for every bathroom. Nobody is waiting for a shock during showering. The recessed spotlights ensure that you can safely shower in cozy light.

Advantage of the bathroom recessed spotlights
There are of course different forms of lighting for your bathroom. The best known examples are the fluorescent tube or the wall lamp. Both are very useful, but they are not very beautiful. It gives your bathroom an immediate clinical look. This problem is solved with the bathroom downlight. The built-in bathroom spotlights make one whole with the ceiling and therefore do not protrude. However, you can choose to use the waterproof recessed spotlights in a built-in LED module, or via a luminaire with separate recessed spots for the shower. In both cases these recessed spots are waterproof. Often you can also set which side the recessed spotlight illuminates your bathroom. In addition, you still have the choice between black and white recessed spot bathroom. Are you unsure whether you have chosen the right spotlights bathroom? These recessed shower showers can be returned within 14 days.

Important tips for the shower downlights
There are still some important tips that need to be followed when using and setting up the recessed spotlights bathroom. It is required to shut off the electricity before you install the bathroom recessed spotlights. This is to prevent any risk with the shower recessed spotlights. In addition, it is important to check whether you have the right LED module at the right shower recessed spot before returning from a cold fairground. Also check the water tightness degree. Usually IP44 is sufficient but once you install above 2.3m height spots, there are no more IP requirements.
Buy your bathroom downlights at My Planet LED
Why would you buy your downlights for the bathroom at My Planet LED? We are a service-oriented lighting shop and we deliver your order as well nationally as internationally. Our customers say we provide an excellent personalized service! 
It's not always easy to make a choice in a wide range. Therefore, we can help you with our advice. Contact us for more advice.

The payment possibilities are versatile and secure! In addition, we are member of a quality mark which controlls if their members follow all the customer legislations. Do you hesitate about a downlight bathroom? No problem! You can use our 14 days return policy. This allows you to see if it fits well. And of course, you can count on the excellent service of My Planet LED. 

Unfortunately not all varieties of downlights are available at My Planet LED. We keep you informed of the status of your order. After receiving your payment, we treat your order. 
Once we receive the bathroom downlight, we will inform you of the delivery.

Do you have more questions? Do not hesitate to mail us ([email protected]) or by phone (+32)  57 466 866 in order to obtain more information about bathroom downlights.