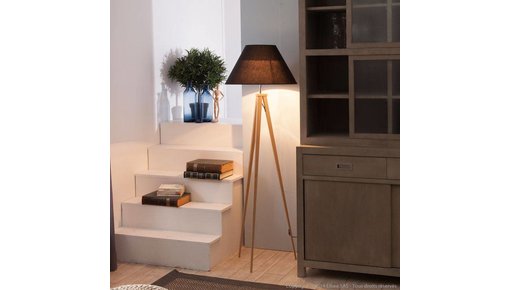 Wooden floorlamps
Looking for wooden floorlamps? View the wide and interesting range at My Planet LED ✔ 2 year warranty ✔ Different styles ✔
Read more
Your specialist in lighting
Webshop with free advice!
Free shipping from €100,- to Benelux, France & Germany
The versatility and warmth of wooden floor lamps
Wooden floor lamps always bring cosiness into the home because wood is a warm product. A wooden floor lamp inspires the humble corners and fits perfectly into any room of your home, whether it is next to your bed, next to your sofa in the living room or in the dining room. A wooden floor lamp is a subtle or present showpiece that illuminates your space in a classic, contemporary or industrial style. Wooden floor lamps can change when fitted with a lampshade. Playing with colors to give your interior a different look is done in no time and ensures that your interior remains up to date. It turns wooden floor lamps into real all-rounders.
Which wooden floor lamp would you choose?
There are wooden floor lamps that consist of a lamp that is mounted on the end of a curved, angled or straight arm. That strongly determines the function of a wooden floor lamp. The soft curves of lampshades are illuminated by the soft glow of a lamp and give a cozy warm appearance to a room. They often function in the shade, they are say a silent presence. Wooden floor lamps with a modern and sleek straight shape can also serve as a reading lamp and if there is a dimming function, you can turn it into an atmospheric lamp in no time. Then there are wooden floor lamps with a specific look, they are eye-catchers in themselves and can also be set up in the middle of a room. They easily function as a reading lamp and because of their own look they give a room more personality and exude a certain style.
Use our search filter, then your search for wooden floor lamps will be a lot easier
Our range is wide, so you can browse through our entire range of floor lamps with the same ease (FLOORLAMPS) You will certainly find what you are looking for, because the choice is large. The problem can be that sometimes you can't figure it out and actually like every lamp and want to take it home. However, by smart filtering you can easily make a choice from all those beautiful lamps and you will soon have a number of lamps that are completely to your liking. Choosing remains difficult, but it becomes a lot easier this way. If you still like the warmth of wooden floor lamps , then you are already in the right place.