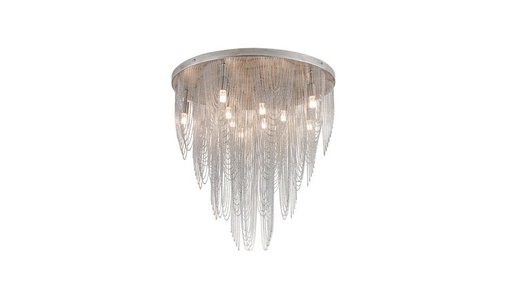 Big ceiling lights
Looking for big ceiling lights? Look at the wide and interesting range at My Planet LED ✔ 2 years guarantee ✔ Satisfied or money back ✔ Different styles ✔
Read more
In your home you are always looking for the right lighting. You take into account the type of light and the lamp type, but also the style of your home. Which forms and structures play a role? Big ceiling lights are therefore excellent in larger rooms. On which basis do you choose your ceiling lighting exactly?
Ceiling lights are the real basic lighting of every home. In this way, they create a well distributed light in every room thanks to their placement high against the ceiling. In each room they give a diffuse light blanket that you can supplement with other lamp types. This is possible thanks to their high position: close to the ceiling they have, as it were, an overview of the entire space.

Large ceiling lights also allow you to create a certain focus thanks to the often built-in ceiling spots. Some lamps can also be dimmed so that they perfectly match the atmosphere at any time of the day. In the evening, for example, you often want your lighting to be less bright, so that you can prepare your eyes for the night.
Very important is the shape and style of your lamp: it has to be in proportion with the space. Big ceiling lamps therefore fit perfectly in large rooms. They fill the room visually perfectly: this gives you a nicely balanced layout. Large ceiling lights come in different styles that perfectly match the style of your home:
To make the style of your lamp even better with your home, it is important that you choose them in proportion with the space or space you want to illuminate. That is why you can find ceiling lighting in various forms: for soft, sloping structures in your home you have convex, oval or domed, but also rectangular lamps. In spacious places, large ceiling lights are particularly beautiful: high ceilings really benefit from long, tentacle-shaped lamps.
Why would you buy your big ceiling lights at My Planet LED? We are a service-oriented lighting shop and we deliver your order as well nationally as internationally. Our customers say we provide an excellent personalized service! 
It's not always easy to make a choice in a wide range. Therefore, we can help you with our advice. Contact us for more advice.

The payment possibilities are versatile and secure! In addition, we are member of a quality mark which controlls if their members follow all the customer legislations. Do you hesitate about a large ceiling light? No problem! You can use our 14 days return policy. This allows you to see if it fits well. And of course, you can count on the excellent service of My Planet LED. 

Unfortunately not all varieties of ceiling lights are available at My Planet LED. We keep you informed of the status of your order. After receiving your payment, we treat your order. 
Once we receive the large ceiling lamp in design style, we will inform you of the delivery.

Do you have more questions? Do not hesitate to mail us ([email protected]) or by phone (+32)  57 466 866 in order to obtain more information about big ceiling lights.