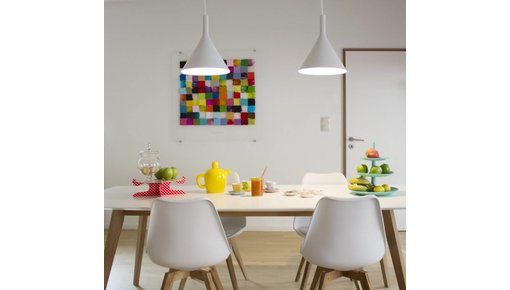 LED pendant lights
Looking for LED pendant lights? Look at the wide and interesting range at My Planet LED ✔ 2 years guarantee ✔ Satisfied or money back ✔ Different styles ✔
Read more
LED pendant lights are very popular because of their low consumption and long life. Moreover, they can now be found in all possible styles and shapes.
LED pendant lights have initially been crammed with problems of light color and longevity. For example, remember the sometimes yellow-green light colors of some LED lamps. In the meantime LED technology has become ripe and all these teething problems have been removed. Because their color reproduction is often very beautiful these days, they can be found in all styles, regardless of whether it is classic, rural, modern or design. As is known, LED does not get very hot in the beam angle but it is very sensitive to heat. Therefore, proper cooling of the luminaire is necessary. This can be done by the materials used, for example by aluminum.

The shapes of LED pendant lamps
LED pendant lights are available in various forms:
Pendant lights are used everywhere. Make sure you take the right light color for the right space. Warm white is the most commonly used light color and can be used anywhere. Normal white is comparable with daylight and is sometimes used outdoors. Cold white is then used in showrooms or ateliers. The colder the light, the stronger the light intensity. Warm white varies between 2700 and 3000 Kelvin, normal white between 4000 and 4500 Kelvin, cold white between 6000 and 6500 Kelvin.
Why would you buy your LED pendant lights at My Planet LED? We are a service-oriented lighting shop and we deliver your order as well nationally as internationally. Our customers say we provide an excellent personalized service! 
It's not always easy to make a choice in a wide range. Therefore, we can help you with our advice. Contact us for more advice.

The payment possibilities are versatile and secure! In addition, we are member of a quality mark which controlls if their members follow all the customer legislations. Do you hesitate about a LED pendant light? No problem! You can use our 14 days return policy. This allows you to see if it fits well. And of course, you can count on the excellent service of My Planet LED. 

Unfortunately not all varieties of LED suspension lights are available at My Planet LED. We keep you informed of the status of your order. After receiving your payment, we treat your order. 
Once we receive the LED pendant lamp, we will inform you of the delivery.

Do you have more questions? Do not hesitate to mail us ([email protected]) or by phone (+32)  57 466 866 in order to obtain more informations about LED pendant lights.