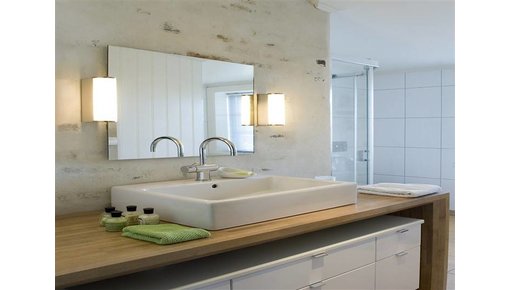 Bathroom lighting
Buy your bathroom lighting at My Planet LED! Wide range! Good prices! Excellent quality! Different styles! Satisfied or money back!
Read more
Are you looking for bathroom lighting? At My Planet LED, you can order a wide range of bathroom lighting. We are one of the biggest online LED light shops and we deliver your order as well nationally as internationally. Our customers say we provide an excellent personalized service!


Features of bathroom lighting
The bathroom is the place where you prepare yourself for a new day. Full of good intentions, you take the time to wash yourself and to take care of your appearance. Whether you shave yourself, put some make-up, brush or flush your teeth, you will always need enough light in order to see the details.
A good bathroom lighting is therefore indispensable. But what are tthe needs for a good bathroom lighting?

In order to define good bathroom lighting, we have to make a distinction between basic lighting and additional, orientable lighting.
Basic lighting ensures a general basic level of lighting. The is done by the means of bathroom ceiling lights which are equipped with a mat lamp shade.
The orientable lighting can be done in different ways : whether in the form of mirror lighting (can be an descending or a sidewards light), bathroom wall lights or bathroom downlights (downlights with a wide beam ensure basic lighting).
In general, a light intensity of +/- 4000 lumen is necessary in an average bathroom. This often corresponds with 1 central light point in the form of a ceiling light in combination with 4 to 6 spot lights.

Waterproof lighting is necessary as the bathroom is a place where is a lot of humidity, especially in the nearness of water sources. The waterproofness of lighting is indicated with the IP degree. You can find an overview of the IP degree here.
Therefore, we distinguish 3 zones in bathroom lighting :
Zone 1 : is the zone up to 225cm height, situated nearby the water sources (bath, shower or washbasin). Here is an IP45 or IP65 (protected against water jets) necessary.
Zone 2 : is the zone situated at 60cm of the of a water source (bath, washbasin or shower) and up to a height of 225cm. Here is IP44 (protected against splashing of water) the necessary minimum degree. 
Zone 3 : is the zone situated above 225cm height and outside the limit of 60cm of the water sources. Here are no minimum IP requirements.
Order your bathroom lighting at My Planet LED
You can easily order your bathroom lighting at My Planet LED. Aren't you sure that the bathroom lighting is suitable for your interior? That's no problem because at My Planet LED, you can use our 14 days return policy. Of course, you can also count on the excellent service of My Planet LED!
Would you like to have more information about bathroom lighting?
Do you have more questions? Or would you like to have more information about My Planet LED? Do not hesitate to contact us by mail ([email protected] or by phone (+32) 57 466 866 in order to obtain more information about bathroom lighting.