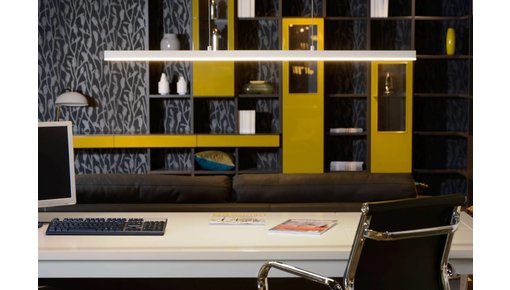 Hanging lights office
Looking for hanging lights for the office? Look at the wide and interesting range at My Planet LED ✔ 2 years guarantee ✔ Satisfied or money back ✔ Different styles ✔
Read more
Good office lighting is very important: not only for functional reasons but also to keep your staff motivated and to increase productivity.
Hanging lights for the office also contribute to good office lighting. They are often used at the entrance hall or reception.
The advantages of hanging lights office

Office hanging lamps are not just useful for giving only light. No, they have an even more important role, namely to give your employees a good feeling that they enjoy working with. After all, numerous studies have shown that a pleasant working atmosphere increases productivity. Naturally, the working atmosphere is not only determined by hanging lamps. Naturally, social interaction also plays a role here. Regarding the role of office pendant lights, aesthetics are important. A typical hanging lamp will attract little attention but a special design pendant lamp all the more. Your employees will see that you have good taste and that you want to invest in their environment.
The light color of hanging lights office is also very important: too yellow light is not ideal. A too warm light color reduces productivity. Do you also want to have a cozy warm light in the evening to relax? Of course, very cold light is not beautiful. That's why you choose the golden mean: normal white light or daylight.
You can easily calculate the number of hanging lamps that you need per room. For an office space you usually need 3000 to 6000 lumens. You can calculate it even more precisely by multiplying the number of m2 by the number of lux required. Then you obtain the number of lumens and you can check how many lumens the hanging lamp gives.
The most beautiful office hanging lights

Office pendant lights can have different shapes and styles. Design or modern styles are most commonly used. However, an industrial pendant lamp can also fit into an experimental framework.
Buy your office hanging lights at My Planet LED
Why would you buy your office pendant lights at My Planet LED? We are a service-oriented lighting shop and we deliver your order as well nationally as internationally. Our customers say we provide an excellent personalized service! 
It's not always easy to make a choice in a wide range. Therefore, we can help you with our advice. Contact us for more advice.

The payment possibilities are versatile and secure! In addition, we are member of a quality mark which controlls if their members follow all the customer legislations. Do you hesitate about an office hanging light? No problem! You can use our 14 days return policy. This allows you to see if it fits well. And of course, you can count on the excellent service of My Planet LED. 

Unfortunately not all varieties of pendant lights are available at My Planet LED. We keep you informed of the status of your order. After receiving your payment, we treat your order. 
Once we receive the pendant light office, we will inform you of the delivery.

Do you have more questions? Do not hesitate to mail us ([email protected]) or by phone (+32)  57 466 866 in order to obtain more information about hanging lights office.