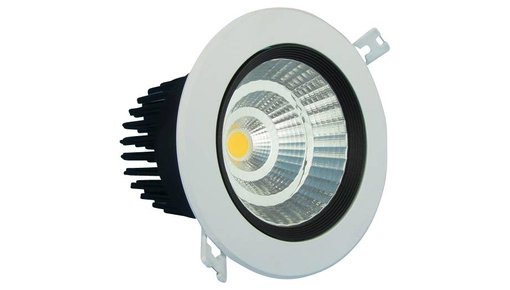 Large downlights
Looking for large downlights? Look at the wide and interesting range at My Planet LED ✔ 2 years guarantee ✔ Satisfied or money back ✔ Different models ✔
Read more
More range with large downlights
The use of recessed spots is a very nice method for the seamless elimination of lighting in your home. With built-in spots, sufficient light can be created, but you can also obtain accent or mood lighting with recessed spotlights. It is therefore advisable to also hang a dimmer behind your (dimmable) recessed spotlights so that you can determine your own brightness. A big advantage of recessed spotlights is that no fittings are visible. Only the light source is concealed in the ceiling or wall. This gives a tight appearance and saves and is easier to maintain. However, you must take into account enough space under the ceiling or behind the wall. Do you need extra good lighting in certain places? Then you can opt for large recessed spotlights.

The width of the light beam
Both small and large downlights are available in various sizes. For the purchase of recessed spotlights, you should also think carefully about the function of the downlights. The size of recessed spotlights also determines the width of the light beam. If you need a lot of light in certain places, recessed spotlights are highly recommended. Small can also, but then you will have to place a group with several smaller recessed spots. Do you want to obtain a clean look and immediately good light from one light source? Then large recessed spotlights are ideal. In addition, such recessed spotlights can be a great eye-catcher. The most common recessed spotlights have dimensions of 8 ° to 60 °. With a large downlight you deviate from it and the recessed spot is a striking appearance. Small recessed spots are useful if, for example, you want to accentuate objects.

Recessed spotlights large saw size
Large downlights are of course very beautiful, but the installation of this must be done very accurately. Therefore, always read the description carefully when purchasing the recessed spotlights. Here you find the installation method and dimensions. You will have to make a hole in the ceiling or the wall and this must be immediately good. You will have to use exactly the right saw size, so that the hole is not too big, but also not too small. The saw size is often a few millimeters smaller than the outside dimension of the recessed spotlights. This is because the edge often falls over the drilled hole. With the correct saw size you are assured that the housing of the recessed spot is very tight in the fitted hole. Use a hole drill for the best results.

Types of large recessed spotlights
The range of recessed spotlights is slightly more limited than the smaller frequently used recessed spotlights. Yet you have a large choice of different models and shapes. Whether you want square, round or adjustable, it is all possible. Do you want halogen or LED recessed spotlights? LED recessed spots are recommended nowadays, because halogen lamps, like light bulbs, are now banned. Also, LED lamps are many times more durable.
Buy your large downlights at My Planet LED
Why would you buy your large downlights at My Planet LED? We are a service-oriented lighting shop and we deliver your order as well nationally as internationally. Our customers say we provide an excellent personalized service! 
It's not always easy to make a choice in a wide range. Therefore, we can help you with our advice. Contact us for more advice.

The payment possibilities are versatile and secure! In addition, we are member of a quality mark which controlls if their members follow all the customer legislations. Do you hesitate about a large recessed spotlight? No problem! You can use our 14 days return policy. This allows you to see if it fits well. And of course, you can count on the excellent service of My Planet LED. 

Unfortunately not all varieties of downlights are available at My Planet LED. We keep you informed of the status of your order. After receiving your payment, we treat your order. 
Once we receive the large downlight, we will inform you of the delivery.

Do you have more questions? Do not hesitate to mail us ([email protected]) or by phone (+32)  57 466 866 in order to obtain more information about large downlights.