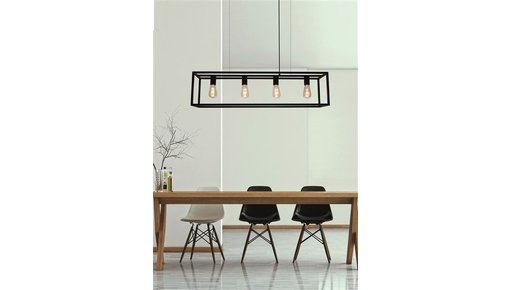 Rectangular pendant lights
Looking for rectangular pendant lights? Look at the wide and interesting range at My Planet LED ✔ 2 years guarantee ✔ Satisfied or money back ✔ Different colours ✔
Read more
Every space in a home deserves attention when designing it, especially if one attaches importance to the look and feel of the home or the company as a whole. Lighting is really an indispensable factor here, and finding the right lamps is therefore crucial to achieve a beautiful, stylish whole.
Depending on the surface of the room, the furnishing style and the possibilities, a different type of lighting will apply. Rectangular pendant lights fit in many situations, and therefore deserve a word of explanation.
What can one expect now in the search for rectangular hanging lamps? The following overview gives some advantages of such lamps, as well as a number of good examples.
Why choose rectangular pendant lights?
Pendant lights can be found in countless formats and versions, so there is a possibility for every situation. A concise overview of the main advantages of such lamps:
- Pendant lights rectangular to fit every style
Whether the home or the business is modern or classic, hanging lamps in rectangular shape are almost always an option. Of course it is important to look for the right models, but the offer is very extensive and offers an option for every situation.
- Rectangular pendant lights are perfect for larger spaces
Precisely because they are rectangular and therefore longer, such hanging lamps fit perfectly in larger spaces that require a lot of lighting. From a spacious living room in a rural house to the entrance hall of a modern company, the possibilities go far. Especially in working environments, good lighting is essential and rectangular pendant lamps can certainly help.
- A rectangular hanging lamp: reliable and durable
Finally, such lamps offer a lot in terms of durability and quality. Many rectangular pendant lamps have LED lights, which means they last much longer and can therefore also yield considerable savings in addition to good lighting. This is important in both private and business environments!
Choose the best rectangular hanging lights
Each pendant lamp is different and that makes weighing every options important if you want to get the best out of the interior or the company building. Rectangular lamps come in countless formats and styles. An overview of some possibilities:
1. Attractive rectangular suspensions
For those who want to give the house an extra cozy, romantic look, lamps with glass coverings and candles are the ideal option. Such lamps fill the room with a sultry, dim light and are therefore the perfect choice for a cozy, homely interior.
2. Cozy living thanks to the right rectangular pendant lights
Of course there are also lamps that are more functional and mainly serve to illuminate the room properly. There are plenty of options for example the living room, or to hang above the kitchen table. A simple design and quality lighting are central here, and therefore add value to the living comfort.
3. LED rectangular pendant lights
Finally, it is also possible to opt for LED lamps; these are not only more durable than ordinary lamps, but they fit perfectly in working environments, such as companies, thanks to their neutral and strong light.
Buy your rectangular pendant lights at My Planet LED
Why would you buy your rectangular pendant lights at My Planet LED? We are a service-oriented lighting shop and we deliver your order as well nationally as internationally. Our customers say we provide an excellent personalized service! 
It's not always easy to make a choice in a wide range. Therefore, we can help you with our advice. Contact us for more advice.

The payment possibilities are versatile and secure! In addition, we are member of a quality mark which controlls if their members follow all the customer legislations. Do you hesitate about a rectangular suspension lamp? No problem! You can use our 14 days return policy. This allows you to see if it fits well. And of course, you can count on the excellent service of My Planet LED. 

Unfortunately not all varieties of pendant lights are available at My Planet LED. We keep you informed of the status of your order. After receiving your payment, we treat your order. 
Once we receive the rectangular pendant light, we will inform you of the delivery.

Do you have more questions? Do not hesitate to mail us ([email protected]) or by phone (+32)  57 466 866 in order to obtain more information about rectangular pendant lights.