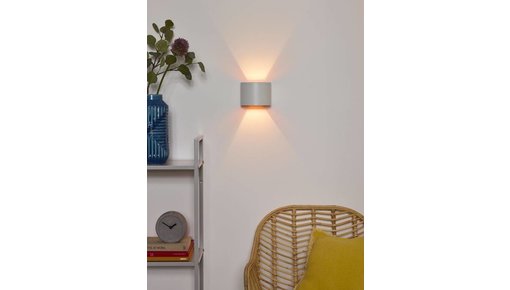 Grey wall lights
Looking for grey wall lights? Look at the wide and interesting range at My Planet LED ✔ 2 years guarantee ✔ Satisfied or money back ✔ Different styles ✔
Read more
Grey wall lights, no wall flowers but eye-catchers!
Is grey a dull color? Sometimes dull gray eyes and someone can be a 'gray mouse'. But the trends in the interior of today say something very different about gray. The color gray is trendy, see for example the concrete look on walls and floors and in the kitchen. That is completely of this time. You have many different colors of gray, from very dark to very light shades of gray. You can also see grey elements such as benches, chairs, decorated tables, lamps, vases, etc. everywhere. Grey is a warm color in combination with other soft and matching colors such as beautiful green, blue and brown tones. Grey is also a great combination with black. Look at a gray wall lamp. Grey wall lamps are beautiful on a beautiful colored wall, but also gray tones give a wonderful effect. That is a soothing image for people who do not like a colorful whole.
Grey and grey
Wall lamps in gray! You come across this both in-store and online. There are many types of gray wall lamps made from different materials. Wall lamps in grey color can be a combination of multiple colors, for example partly with wood, but also entirely of metal or the industrial look. There is of course grey and grey, also concerning grey wall lights. So much variation! The grey industrial wall lamps look very different from shiny metal grey wall lamps. That is entirely to your taste. But why not opt ​​for a beautiful eye-catcher in the shape of a wall lights in grey in your interior? Actually it always fits, especially when the interior has several eye-catching gray accessories. And in addition with accessories in brighter colors. That is beautiful. With wall lights in grey, you create beautiful warm light if you use the right LED lamp. With a dimmer you can achieve all kinds of light effects.
Adjustable, tiltable and bendable
To be able to read well with a grey wall light, do you choose a wall light in grey that is adjustable, bendable or tiltable? In this way you turn the light towards you according to your own wishes. A nice design is also a point that you pay attention to. After all, the eye wants something too? Then there is the choice of cordless or corded. Cordless grey wall lights have the advantage that the whole radiates tranquility because you do not have a cord in sight. The lamp is dimmable with an external dimmer. You determine the amount of light yourself. Our grey wall lights are often already equipped with a dimmer if you buy the product. You create a cozy atmosphere or an atmosphere to read. Many wall lamps have a cord with plug. They can be operated directly with a click on the cable plug. Have fun with your purchase!
Buy your grey wall lights at My Planet LED
Why would you buy your grey wall lights at My Planet LED? We are a service-oriented lighting shop and we deliver your order as well nationally as internationally. Our customers say we provide an excellent personalized service! 
It's not always easy to make a choice in a wide range. Therefore, we can help you with our advice. Contact us for more help.

The payment possibilities are versatile and secure! In addition, we are member of a quality mark which controlls if their members follow all the customer legislations. Do you hesitate about a wall light in grey colour? No problem! You can use our 14 days return policy. This allows you to see if it fits well. And of course, you can count on the excellent service of My Planet LED. 

Unfortunately not all varieties of grey wall lights are available at My Planet LED. We keep you informed of the status of your order. After receiving your payment, we treat your order. 
Once we receive the grey wall light, we will inform you of the delivery.

Do you have more questions? Do not hesitate to mail us ([email protected]) or by phone (+32)  57 466 866 in order to obtain more information about grey wall lights.