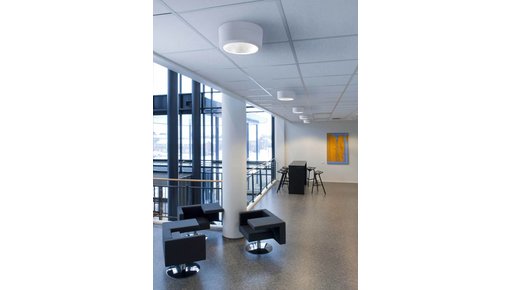 Ceiling lights
Looking for ceiling lights? Buy your ceiling lights at My Planet LED! Safe and easy! Not satisfied? Money back!
Read more
Want to buy ceiling lights? At My Planet LED, you can order a wide range of ceiling lights. We are one of the biggest online LED light shops and we deliver your order as well nationally as internationally. Our customers say we provide an excellent personalized service!


A ceiling light is always fixed to the ceiling with the use of a ceiling support. The aim of a ceiling light is that it's fixed as high as possible to the ceiling in order to have a nice, equal spreading of the light. This so called diffuse lighting is even better if you use a mat diffuser or if you use spots with a wide beam.

The difference with pendant lights ist that the lamp joins up closely to the ceiling, there where ceiling lights are mostly suspended at wires or chains and as a result come much lower. The consequense is that the light is less diffuse and more direct. For these reasons it's also considered as basic lighting. Basic lighting is the lighting which is switched on firstly and which spreads the light to all sides of the room. It can be completed with functional lighting (floor lamps, pendant lights, desk lamps or railspots) or atmospheric lighting (table lamps or wall lights).

A ceiling lamp is used everywhere in the interior : in the hall, the living room, the kitchen, the bathroom, the garage but also in the office or in a shop. The advantage is that it's never in the way and that you won't quickly punch your head. For the bathroom, there are waterproof ceiling lights. There are even ceiling lights with sensor. In this way, they will only function when necessary.

Ceiling lights can also emphasize stuff in the interior. The can be done thanks to long, square or round ceiling lights with orientable spot lights. Ceiling lamps are often very decorative. For example, there are ceiling lights with tentacles or slings or ceiling lights in crystal.

With us, you can choose your lighting by style. We orfer the following styles in which you will also find ceiling lights :


It's important that the ceiling light fits with your interior. Check also if the fitting for the lamps is apart (is interesting for lower wattages, for instance up to 8W) or if a LED module is integrated (is interesting for higher wattages (above 8W). 
As LED lamps are sensible to warmth, they have to be well-cooled. The volume of a spot light or a lamp is too small if the wattage is above 8W. Therefore is a LED module integrated in the fixture. These are well-cooled which ensures a long lifespan.

Finally, we distinguish ceiling lights with direct or indirect lighting, which all have their applications :


ceiling lights with indirect lighting : ensure a nice, diffuse lighting : the light is well-spreaded. These are fixtures with mat glass or spot lights with a wide beam.
ceiling lights with direct lighting : ensure the accentuation of objects. This is mostly the case with ceiling lamps with spot lights. Spot lights with a small beam (for instance 15°) will emphasize objects. The higher they will be installed, the less direct the lighting effect will be and the more diffuse the light will be.
Besides our large assortment, there are more reasons why you should order your ceiling lights at My Planet LED. With us, you order easyly and quickly your ceiling lights. Aren't you sure that they are suitable for your house? That's no problem because at My Planet LED, you can use our 14 days return policy. Of course, you can also count on the excellent service of My Planet LED!
Would you like to have more information about ceiling lights?
Do you have more questions?  Do not hesitate to contact us by mail at [email protected] or at (+32) 57 466 866 in order to obtain more information about ceiling lights.