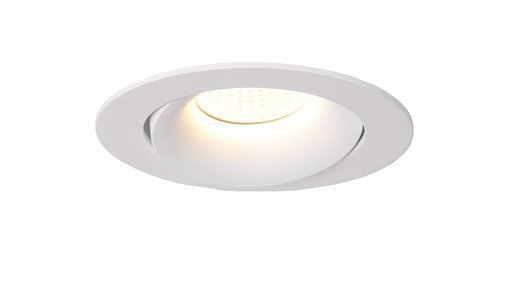 GU10 downlights
Looking for GU10 downlights? Look at the wide and interesting range at My Planet LED ✔ 2 years guarantee ✔ Satisfied or money back ✔ Different styles ✔
Read more
Do you opt for installing recessed spotlights? Then you will have to make a choice from the type of lamps used. Traditionally, recessed spotlights were usually equipped with halogen lamps. But the arrival of LED lighting has caused a revolution. LED lamps last much longer than halogen lamps and are therefore very durable. With LED lighting, the technical possibilities of recessed spots have also increased. You can also buy recessed spotlights with integrated LED lighting. This makes it possible to install recessed spotlights with a low installation depth. A disadvantage of integrated LED lighting in recessed spotlights is that the lamp itself can not be replaced. This will not be necessary due to the long life of LED lighting. But if your lamp breaks, you will have to replace the entire recessed spot. GU10 downlights do not have this problem.

What are GU10 downlights?
Do you still see the wood for the trees through all those different types when buying lamps? There are indeed countless different types of lamps and the most important thing to look out for is the fitting or the lamp cap. Similarly with GU10 recessed spotlights. GU10 stands for the type of fitting which is usually used in recessed spotlights. The big advantage of GU10 downlights is that the lamps can be changed. This is in contrast to lamps that are integrated in recessed spotlights. If a lamp breaks or you need a different color illumination, then the lamp is easy to change. The lamps in recessed spotlights with GU10 are fitted with two pins in the lamp cap. These are placed in the appropriate slots in the fitting, after which you turn the lamp a quarter turn. The lamp is therefore fixed in the GU10 downlight.

Voltage
The voltage of the public electricity grid used to be 220V. In the 1980s it was agreed at European level to increase the grid voltage to 230V over the course of 20 years. Do you have older 220V downlights at home? Then you will probably not experience problems with your recessed spot 220V, because there may be a margin in the mains voltage. This allows the voltage to vary between 216V and 243V. Newer GU10 recessed spots will no longer be based on 220V, but on 230V. Replacement of 220V recessed spotlights is not immediately necessary, but it is worthwhile to install a new downlight GU10. Especially if there is a halogen lamp in your old recessed spot. With a downlight GU10 that works on a LED light you are sure of a much longer life and a lower consumption.
Buy your GU10 downlights at My Planet LED
Why would you buy your GU10 downlights at My Planet LED? We are a service-oriented lighting shop and we deliver your order as well nationally as internationally. Our customers say we provide an excellent personalized service! 
It's not always easy to make a choice in a wide range. Therefore, we can help you with our advice. Contact us for more advice.

The payment possibilities are versatile and secure! In addition, we are member of a quality mark which controlls if their members follow all the customer legislations. Do you hesitate about a GU10 spotlight? No problem! You can use our 14 days return policy. This allows you to see if it fits well. And of course, you can count on the excellent service of My Planet LED. 

Unfortunately not all varieties of downlights are available at My Planet LED. We keep you informed of the status of your order. After receiving your payment, we treat your order. 
Once we receive the GU10 downlight, we will inform you of the delivery.

Do you have more questions? Do not hesitate to mail us ([email protected]) or by phone (+32)  57 466 866 in order to obtain more information about GU10 downlights.