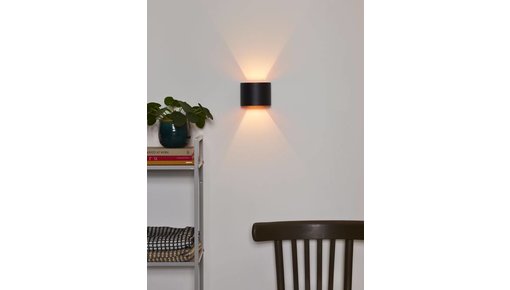 Wall lights living room
Looking for wall lights for the living room? Look at the wide and interesting range at My Planet LED ✔ Satisfied or money back ✔ Different styles ✔
Read more
Which wall lights do you choose for your living room?
The living room is the heart of many homes. The living room is the room where you can relax after a busy working day, where you receive a visit or sit on the couch in front of the TV. Good lighting is therefore necessary in the living room. If you have to eat or you want to carry out your hobby, you need sufficient light. Are you sitting in front of the TV in the evening, or are you visiting? Then bright lighting is not necessary. More cozy than to have mood lighting. This is best achieved with living room wall lamps. Of course you can also hang a dimmer behind a hanging lamp or a standing lamp. But to achieve the best mood lighting, the distribution of the light points by your living room is better. Since you usually have one to a maximum of two hanging lamps in your living room, this can best be achieved with wall lights for the living room.
Which wall lights for the living room fit best?
The choice in the number of wall lamps for the living room is enormous. You can choose for very modest living room wall lamps, but also for a wall lamp living room with a striking design. As wall lights for the living room you can also opt for spots. In this case it is possible to create mood lighting as well as accent lighting. A commercial is easy to focus on a painting or a striking element on the wall. An advantage of multiple living room wall lamps is that you can supply them with lamps with a lower wattage. This way you can still obtain enough light with atmospheric lighting without having to put on a bright lamp. You can also opt for so-called up and down wall lamps. As the name suggests, these wall lamps shine upwards or downwards. This depends on your wishes. The design also depends entirely on your personal taste and wishes. Of course, the wall lamp must fit well with your interior style, but you do not have to be afraid of that. There is always a wall lamp for your living room that best suits your interior.

How high should living room wall lights hang?
It is important how high your wall lights for the living room are. In general, wall lights in the living room are used for mood lighting, so they should not hang too high, but not too low. Wall lamps for the living room with an open bottom that hang too low can be disturbing because you look into the light source. In most cases a height of between 1.60 meters and 1.70 meters is recommended. Closed wall lamps are arranged a bit higher.
Buy your wall lights for your living room at My Planet LED
Why would you buy your living room wall lights at My Planet LED? We are a service-oriented lighting shop and we deliver your order as well nationally as internationally. Our customers say we provide an excellent personalized service! 
It's not always easy to make a choice in a wide range. Therefore, we can help you with our advice. Contact us for more help.

The payment possibilities are versatile and secure! In addition, we are member of a quality mark which controlls if their members follow all the customer legislations. Do you hesitate about a living room wall light? No problem! You can use our 14 days return policy. This allows you to see if it fits well. And of course, you can count on the excellent service of My Planet LED. 

Unfortunately not all varieties of wall lights in gold are available at My Planet LED. We keep you informed of the status of your order. After receiving your payment, we treat your order. 
Once we receive the living room wall lamp, we will inform you of the delivery.

Do you have more questions? Do not hesitate to mail us ([email protected]) or by phone (+32)  57 466 866 in order to obtain more information about wall lights for the living room.