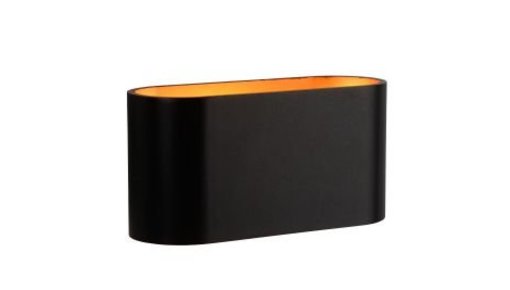 Wall lights gold
Looking for wall lights in gold? Look at the wide and interesting range at My Planet LED ✔ 2 years guarantee ✔ Satisfied or money back ✔ Different styles ✔
Read more
Days, where you would simply install a lighting system, are long gone. Nowadays people are looking for class, luxury and glamor. This is the main reason why you need your wall lambs of gold. There are different types of these lights out there. This allows you to illuminate your walls and improve visibility, giving you a warm feeling at home. Moreover, you can use them with creativity as decorations, as well as wall lambs. Add some of these wall lights in gold to your home. The cozy finish lets you enjoy the pleasure of having them. Some of the reasons why you should have golden wall lamps are:

Wall lights in gold are the best option to emphasize your artwork
Most modern houses have great artwork. Without good lighting it will be difficult to notice. For a stylish finish you do not just place lamps for lighting. Make your wall lights in gold and complement the art. They will ultimately look more beautiful. In this way you can emphasize your artworks in a creative way. Every detail is recorded with class.

Golden wall lights will always brighten your mood
Different lighting systems embody different moods. This should usually be done on the walls of the bedroom or in the hallways. Place your golden wall lights strategically to cover the whole place. Try to make each wall lamp in golden color instead of any other wall lamp. When the night falls, let them light up and you see your mood change. Having more of these in-house will be very useful. They will always cheer you up.

Golden wall lamps will help you reduce your electricity bill
Most of these decorative golden lamps are LEDs. These lighting systems are known to use less power than ordinary lamps. By using them, you can significantly reduce your energy costs. Switch to less energy-consuming lamps. Try to buy your wall lamps in gold color. This way you maintain the elegance of your home. In the end, cash will not be the only thing you have saved. You have also changed a lot of your home. It is therefore important to order your wall lamps in gold color. They make the room look great in contrast to other wall lamps.

Wall lamps in gold will surely transform your home
Making wall lamps in gold will bring an immediate transformation to your home. These silky, lively and well made wall lamps are the ideal home exchange. They have the ability to glow every inch of the wall. With this effect your house looks fantastic. Try them out and experience the effect of having your golden wall lamps.
With the above proven reasons. It would be an exciting idea to have every wall lamp in gold. They will transform your house and save you a lot of money. You can also let your art glow at night. Switch to these amazing lamps and experience a great change in your home.
Buy your wall lights in gold at My Planet LED
Why would you buy your golden wall lights at My Planet LED? We are a service-oriented lighting shop and we deliver your order as well nationally as internationally. Our customers say we provide an excellent personalized service! 
It's not always easy to make a choice in a wide range. Therefore, we can help you with our advice. Contact us for more help.

The payment possibilities are versatile and secure! In addition, we are member of a quality mark which controlls if their members follow all the customer legislations. Do you hesitate about a wall light in gold colour? No problem! You can use our 14 days return policy. This allows you to see if it fits well. And of course, you can count on the excellent service of My Planet LED. 

Unfortunately not all varieties of wall lights in gold are available at My Planet LED. We keep you informed of the status of your order. After receiving your payment, we treat your order. 
Once we receive the golden wall light, we will inform you of the delivery.

Do you have more questions? Do not hesitate to mail us ([email protected]) or by phone (+32)  57 466 866 in order to obtain more information about wall lights in gold.