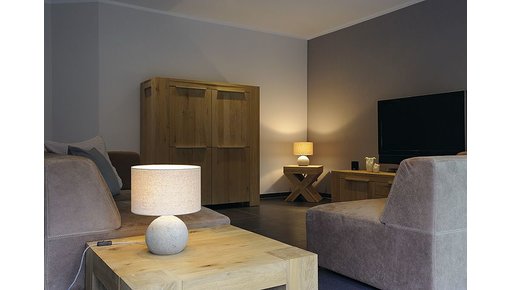 Table lamps
Looking for a table lamp? Modern, flexible, classic table lamps in our ledshop!
Read more
Would you like to buy a new table lamp? At My Planet LED, you are at the right place! At My Planet LED, you find a whole range of table lamps. Whether it's for use in your living room, on your dressing table or in your office, at My Planet LED you will find the right table lamp!


Features of a table lamp
Look at our assortment table lamps. You will see that a table lamp is perfect to use in a living room but also in the office they are suitable! Most of time, a table lamp has a support and a lamp shade and they are perfect to use as background lighting. With some models, you can combine the table lamp as much as you wish : you can choose the support of the table lamp and combine with a lamp shade in fabric or metal and also the shape or color can be choosen! You can choose a table lamp which fits perfectly in your interior! The style can also be choosen : for instance, you can choose a modern table lamp, a retro table lamp or a design table lamp. We like to help you in your choice of table lamps!


Buy your table lamp at My Planet LED

Besides the large choice we offer at My Planet LED, we have more to offer. We like to help you with our advice. You can also find a wide range in our shop Woondesign at Ieper where your can find a lot of models. With us, you buy definitely your favorite table lamp. Are you not sure that the table lamp is suitable for your home? No problem : you can choose our 14 days return policy.


Would you like to have more information about a table lamp?
Do you have questions about a table lamp? Or do you wish to know more about My Planet LED? Contact us! You can reach us at the phone number (+32) 57 466 866. You can also contact us by mail at [email protected]. One of our employees will be pleased to help you!