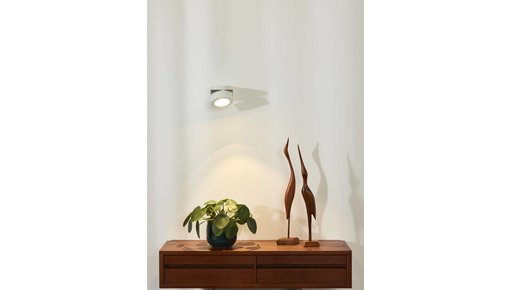 LED wall lights
Looking for LED wall lights? Look at the wide and interesting range at My Planet LED ✔ Satisfied or money back ✔ Different styles ✔
Read more
LED wall lights are very popular because of their low consumption and long service life. Moreover, they are now available in all kinds of styles and shapes.
The different styles of LED wall lights
LED wall lights initially faced problems of light colour and lifespan. Remember, for example, the sometimes yellow-green light colours of some LED lamps. In the meantime, LED technology has matured and all these teething problems have been solved. Because their colour rendering is often very nice nowadays, they can be found in all styles, regardless of whether it is classic, country, modern or design. As is well known, LEDs do not get very warm at the radiation angle, but they are very sensitive to heat. Therefore, a good cooling of the luminaire is necessary. This can be done through the materials used, for example aluminium. 
The shapes of LED wall lights
LED wall lights come in various shapes:

Applications LED wall lights
Wall lights are often used in the living room, bedroom, hallway, but also in companies, restaurants and hotels. Make sure you choose the right light colour for the right room. Warm white is the most commonly used light colour and can be used anywhere. Normal white is comparable to daylight and is sometimes used outdoors. Cold white is more likely to be used in showrooms or workshops. The colder the light, the stronger the light intensity. Warm white varies between 2700 and 3000 Kelvin, normal white between 4000 and 4500 Kelvin, cold white between 6000 and 6500 Kelvin.
The colour rendering index indicates how natural the colour is. This is expressed in Ra. The higher this value, the more natural the colour is. From Ra 80 onwards, the colour rendering is good.
Nowadays there are also many LED wall lights that can be dimmed. These are often compatible with most dimmers. Opt for a universal dimmer. This works with almost all LED lamps.
Buy your LED wall lights at My Planet LED
Why would you order LED wall lights at My Planet LED? We are a service-oriented lighting shop and we deliver your order both nationally and internationally. Our customers appreciate us for the personal contact and our good service. 
It is not always easy to make a choice within the wide range. Therefore, we can assist you with our advice. On our blog, you will also find a lot of information on, for example, the required lighting strength per room.
Moreover, we are affiliated with a quality mark that ensures that we respect all consumer rules. You can choose your own form of payment. The possibilities are vast and you pay in all security on our payment platform. Still in doubt? Then make use of our fourteen day right of return. So you have enough time to think whether it suits your interior. 
At My Planet LED, unfortunately not every lamp is in stock. Yet we like to keep you informed when your LED wall lamp is delivered. After we have received your payment, we will process your order. As soon as we have received the LED wall light, we will inform you about the delivery.
Do you have any questions? Please contact us by phone (+32) 57 466 866 or by e-mail ([email protected]) to receive more information about LED wall lights .