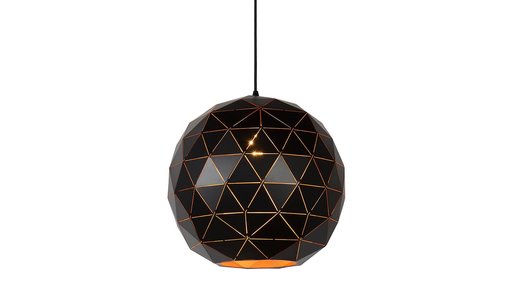 Ball pendant lights
Looking for ball pendant lights? Look at the wide and interesting range at My Planet LED ✔ 2 years guarantee ✔ Satisfied or money back ✔ Different styles ✔
Read more
The house is cozy and cozy furnishing is an assignment that involves a lot, that's for sure. Choosing the right lighting is one of the most important, precisely because the house has a completely new look with it. The search for good lamps is not always easy, and some help is welcome.
Pendant lights in ball shape are one of many options if you want to optimally illuminate your home. Qualitative lighting is always a must, and hanging lamps are an important part of our offer. Why you should choose this lighting is a question that deserves a clear answer!

Ball pendant lights, more than just lighting
Lighting is often seen as a purely functional part of the home. However, it is also worthwhile choosing lamps according to their appearance. They are part of the house, just like furniture. Paying enough attention to the style element is therefore very important.
Of course it is always useful if you have an overview of what ball pendant lights have to offer. That way you know what you pay for and you can enjoy more of your purchase!

Ball hanging lights: from classic to modern
One of the most important things in furnishing a home is that we look for fitting decoration and furniture. Lighting is often overlooked, but it is important. The advantage of pendant lamps is that they fit with any style. As long as you of course choose the right model!
Classic ball pendant lights often come in materials such as cast iron or wood, and are usually finely decorated. The use of natural materials also makes them suitable for rural homes. Nevertheless, the supply consists to a large extent of modern ball lights, precisely because of their striking shape. From organic LED lamps with a convex upholstery to simple pendent lamps that have a rather adventurous character thanks to a paper cover, the possibilities are extensive.
Special ball pendant lamps for an authentic, separate interior
Of course there are always households that need something more. That is why many models have a unique look, such as the Arabic ball pendant lights. Such a model is finely finished with geometric shapes and has a nice, festive shine. For real creative homes, a bulb that is made of iron wire is a good choice. Or why not choose a bulb that is completely covered with feathers for a playful look in the home?
The hanging lights with bulb possibilities go far, and that extensive range is worth exploring. Lift the comfort and the look of your home a level higher with nice pendant lights that fit within every budget.
Buy your ball pendant lights at My Planet LED
Why would you buy your ball-shaped pendant lights at My Planet LED? We are a service-oriented lighting shop and we deliver your order as well nationally as internationally. Our customers say we provide an excellent personalized service! 
It's not always easy to make a choice in a wide range. Therefore, we can help you with our advice. Contact us for more advice.

The payment possibilities are versatile and secure! In addition, we are member of a quality mark which controlls if their members follow all the customer legislations. Do you hesitate about a ball pendant light? No problem! You can use our 14 days return policy. This allows you to see if it fits well. And of course, you can count on the excellent service of My Planet LED. 

Unfortunately not all varieties of ball hanging lights are available at My Planet LED. We keep you informed of the status of your order. After receiving your payment, we treat your order. 
Once we receive the pendant light in ball-shape, we will inform you of the delivery.

Do you have more questions? Do not hesitate to mail us ([email protected]) or by phone (+32)  57 466 866 in order to obtain more information about ball pendant lights.