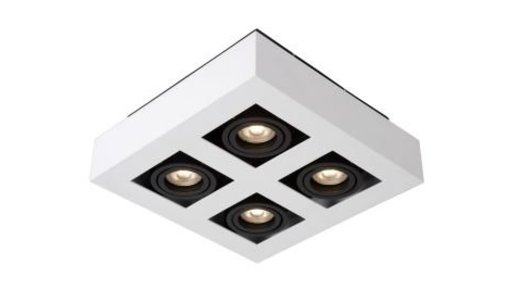 LED ceiling lights
Looking for LED ceiling lights? Look at the wide and interesting range at My Planet LED ✔ 2 years guarantee ✔ Satisfied or money back ✔ Different styles ✔
Read more
LED ceiling lights are particularly popular because they have a long life and consume very little. Nowadays you can find them in all styles and shapes.
The different styles of LED ceiling lights
The styles of LED ceiling lights are very diverse. They are available in classic, modern, design, industrial or country style. The LED ceiling lamps of today have a beautiful light color and are almost indistinguishable from the earlier halogen variant. This is because the color rendering index (this is the way a color is displayed) has improved a lot. For example, many LED ceiling lights are already equipped with a color rendering index of more than 80 Ra. From 80 Ra the color reproduction is good.
The color temperature expressed in Kelvin is usually available in 3 categories: warm white, normal white and cold white. Warm white usually ranges from 2700 to 3000 Kelvin and is most commonly used. Very warm white (2100 - 2500 Kelvin) sometimes also exists. This creates a very warm glow that radiates cosiness and intimacy. This is often used with rural hanging lamps. Normal white (4000 - 4500 Kelvin), on the other hand, is comparable with  daylight and is used more outside. Cold white (6000 - 6500 Kelvin) is more applicable in workshops or showrooms. The warmer the light color, the greater the light intensity.

The shapes of LED ceiling lamps
LED ceiling lights are available in various forms:
Round ceiling lamps
Square ceiling lamps
Long ceiling lamps
Large ceiling lamps
Depending on the location and the furniture, you can choose the most suitable shape.
Applications LED ceiling lights
There are 2 types of LED ceiling lamps:
Ceiling lamps with integrated LED modules. The modules are fixed but have a very long lifespan (average between 30000 and 50000 burning hours).
Ceiling lamps with retrofit lamps: these are ceiling lamps in which you can place separate lamps.
Nowadays there are many dimmable models on the market. These work on most dimmers.
Buy your LED ceiling lights at My Planet LED
Why would you buy your LED ceiling lights at My Planet LED? We are a service-oriented lighting shop and we deliver your order as well nationally as internationally. Our customers say we provide an excellent personalized service! 
It's not always easy to make a choice in a wide range. Therefore, we can help you with our advice. Contact us for more advice.

The payment possibilities are versatile and secure! In addition, we are member of a quality mark which controlls if their members follow all the customer legislations. Do you hesitate about a LED ceiling light? No problem! You can use our 14 days return policy. This allows you to see if it fits well. And of course, you can count on the excellent service of My Planet LED. 

Unfortunately not all varieties of ceiling lights are available at My Planet LED. We keep you informed of the status of your order. After receiving your payment, we treat your order. 
Once we receive the LED ceiling lamp, we will inform you of the delivery.

Do you have more questions? Do not hesitate to mail us ([email protected]) or by phone (+32)  57 466 866 in order to obtain more information about LED ceiling lights.