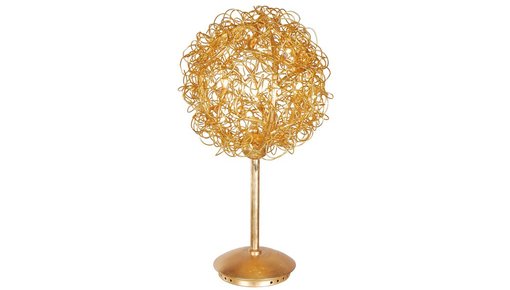 Table lamps gold
Looking for table lamps in gold? View the wide and interesting range at My Planet LED ✔ Not satisfied? Money back ✔Various models ✔
Read more
Bring grandeur into your home with a golden table lamp
Bring glamor to your home with a gold table lamp. A set of lights in the right place in your home can make a huge difference, not only in the amount of light you get, but also in the ambiance you help create. The intensity and placement of a gold table lamp in the room can set the tone for a different mood.
At My Planet led we can present you a unique range of golden table lamps in various styles such as; chic art deco, golden 90's, retro, oriental influence to design and contemporary.
The golden table lamp, the goldilocks among table lamps
Today, the well-known table lamp that we know as our reading light, workplace lighting or bedfellow. No doubt we all have one at home and the magnificent gold table lamp is definitely one of them. It has also been popping up in the design world for a while now. What is so beautiful about the golden table lamp is that the light is reflected so softly, which gives a beautiful shine to the lamp. Whichever version you choose, they give an interior the extra sparkle that you only find with the golden table lamp.
Choose your gold table lamp based on rooms
If you want a golden table lamp in the bedroom, you should ideally choose a fixture that emits a soft light and where the lamp itself also brings peace. It also enhances the feeling of security and safety. Of course, the style you choose will depend on what you like in the first place and what your bedroom currently looks like. For living rooms or in the hall it may be a bit more catchy with humor or rather subdued. Don't be afraid to be creative, the golden table lamp has many faces and is a surplus for any interior.
Use our search filter, then your search for a golden table lamp will be a lot easier  
If you wish to add even more sparkle and warm coziness to your golden table lamp, be sure to take a look at our very nice range of candle-shaped table lamps, these lamps are a wonderful addition to take your interior to a higher level. The problem can be that sometimes you can't figure it out and actually like every lamp and want to take it home. By smart filtering you can easily make a choice from all those beautiful lamps. Choosing remains difficult, but it becomes a lot easier this way.