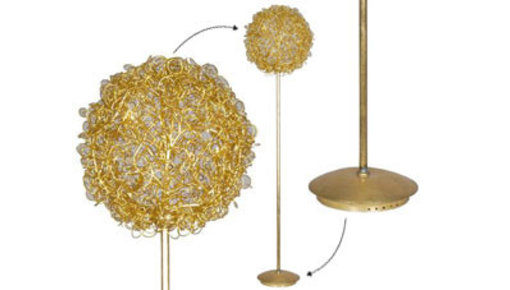 Floor lamps classic
Looking for floor lamps in classic style? Look at the wide and interesting range at My Planet LED ✔ 2 years guarantee ✔ Satisfied or money back ✔Satisfied or money back ✔
Read more
Your specialist in lighting
Webshop with free advice!
Free shipping from €30 to Benelux, France & Germany
Classic floor lamps bring nostalgia into the home. They used to be very common but nowadays many people need lamps with an old, elegant style. They remain trendy and are used in many interiors.
The shapes of classic floor lamps
Classic floor lamps are characterised by their diverse shapes, ranging from curled forms to classic round lamps. Nowadays, they can also be found in more rigid forms, such as spheres. When thinking of classic pendant lamps, classic chandeliers with crystals are also very popular. The crystals often hang from small wires and provide a beautiful reflection of the light. They are also combined with leaves. A classic floor lamp with a fabric lampshade is also an option. Candle lamps are often used in this. Nowadays, there are many types of LED candle lamps on the market with different shapes (for example, with swan necks) and with transparent glass with a carbon effect. In this way, you can combine the classic look with the economy of LED.
When it comes to the colours of classic floor lamps, the stately colours of yesteryear are the most popular. Gold, bronze, silver and rust are in great demand. However, there are also transparent variants. 
Applications floor lamps classic style
Classic floor lamps are used in many interiors. Do you love robust, dark oak furniture and fabric seats with classic carpets, for example? Then a classic floor lamp will be a nice addition to your classic interior.
Buy your classic floor lamps at My Planet LED
Why order classic floor lamps at My Planet LED? We are a service-oriented lighting shop and we deliver your order both nationally and internationally. Our customers appreciate us for our personal contact and good service. 
It is not always easy to make a choice within the wide range. Therefore, we can assist you with our advice. On our blog, you will also find a lot of information on, for example, the required lighting strength per room.
Moreover, we are affiliated with a quality mark that ensures that we respect all consumer rules. You can choose your own form of payment. There are many possibilities and you can pay in all security on our payment platform. Then make use of our fourteen-day right of return. This gives you enough time to think whether it suits your interior. 
At My Planet LED, unfortunately not every lamp is in stock. Yet we like to keep you informed when your classic chandelier is delivered. After we have received your payment, we will process your order. As soon as we receive the classic floor lamp, we will inform you about the delivery.
Do you have any questions? Please contact us by phone (+32) 57 466 866 or by email ([email protected]) to receive more information on classic floor lamps.