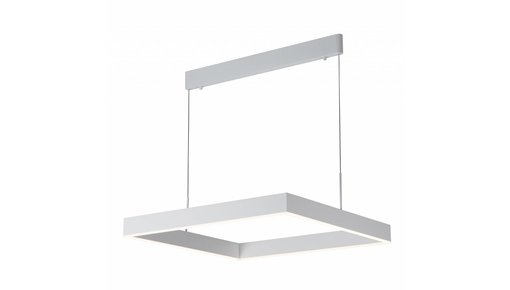 Square pendant lights
Looking for square pendant lights? Look at the wide and interesting range at My Planet LED ✔ 2 years guarantee ✔ Satisfied or money back ✔ Different styles ✔
Read more
Finding the right lamps for the interior is a real task, contrary to what many people think. After all, there is more to it than just looking for good lighting; Lamps are part of the interior in terms of appearance, so finding the right models is really important.
The shape of lamps may not be the first thing you think about when looking for lighting, but it is definitely an important aspect. Square pendant lights are a very popular option, precisely because they can be used for just about any situation.
Some more information about such hanging lamps is applicable here - only that way you can get the best out of the interior!
Everything about square pendant lights
Square suspension lamps may seem like an old-fashioned option in the search for good lighting, there are certainly a lot of options for both rural and modern and classic interiors. Such lamps can be used in many situations thanks to their neutral, square shape, and they are therefore a popular option for homes looking for a timeless look.
Square pendant lamps, for example, fit well in a modern design thanks to their sleek, sober character. Depending on the model, a minimalist and relaxing atmosphere is achieved. Nevertheless, square hanging lamps can also perfectly serve as lighting in a rural house, as long as the right models and colors are chosen. Finally, industrial interiors can also benefit from square pendant lights; many models have a very long pendulum, which makes them fit well into, for example, an industrially furnished loft.
How to buy the best square pendant lights?
Finding the best square pendant lights is no easy matter, precisely because the range is so extensive. Although it will soon become clear that there is a distinction between lamps that fit in a classical setting and rather modern models, it is ultimately a matter of looking for square pendant lamps that fit well with the space in question.
A simple square pendant lamp, such as a model made from old cast iron, has a somewhat outdated look - but fits perfectly in a rustic interior. There are also vintage models that have a simple wooden base and can perfectly serve as lighting in a classically furnished living room. Vintage models usually occur in the form of square lusters, which gives them a classic look in themselves.
There are of course modern options too; many square hanging lights fit in a tight design through the use of simple colors - such as white or gray - and a minimalistic design. Such lamps fit perfectly in both living rooms and kitchens, and provide optimum illumination.
Find the best lighting for every interior

Lighting is an aspect of the design of a home that unfortunately often receives too little attention. It is nevertheless important to find exactly the right lamps - the atmosphere and cosiness of the room will only improve after all, and that is good for living comfort!
Buy your square pendant lights at My Planet LED
Why would you buy your square pendant lights at My Planet LED? We are a service-oriented lighting shop and we deliver your order as well nationally as internationally. Our customers say we provide an excellent personalized service! 
It's not always easy to make a choice in a wide range. Therefore, we can help you with our advice. Contact us for more advice.

The payment possibilities are versatile and secure! In addition, we are member of a quality mark which controlls if their members follow all the customer legislations. Do you hesitate about a square suspension lamp? No problem! You can use our 14 days return policy. This allows you to see if it fits well. And of course, you can count on the excellent service of My Planet LED. 

Unfortunately not all varieties of pendant lights are available at My Planet LED. We keep you informed of the status of your order. After receiving your payment, we treat your order. 
Once we receive the square pendant light, we will inform you of the delivery.

Do you have more questions? Do not hesitate to mail us ([email protected]) or by phone (+32)  57 466 866 in order to obtain more information about square pendant lights.