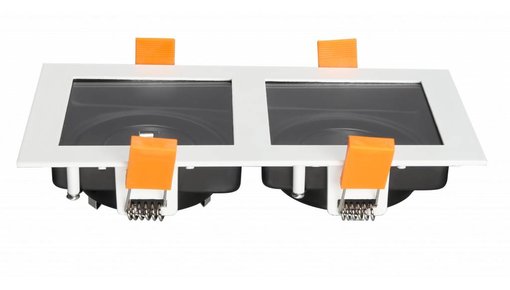 Rectangular downlights
Looking for rectangular downlights? Look at the wide and interesting range at My Planet LED ✔ 2 years guarantee ✔ Satisfied or money back ✔ Different models ✔
Read more
Perhaps you think what added value such a rectangular downlight can offer you. Well, rectangular recessed spotlights are ideal for both small and large spaces. Moreover, they are the solution if you are looking for targeted lighting. With recessed rectangular spots you can turn the light or tilt to an area that you want to pay attention to.
You are also ensured with years of lighting thanks to rectangular LED downlights. You do not have to replace the lamp or fixture all this time. Due to the wide range of colors and shapes, choosing recessed spotlights is very simple. There is a recessed spot for every style and design. The easy installation and long-lasting and energy-efficient lighting are provided free of charge.
Downlights in rectangular shape suitable for any interior
Whatever style you have as an interior, rectangular recessed spots can be used in any interior. You can choose shapes and dimensions, with built-in LED or suitable for LED lamps. In some cases, you can tilt or turn the recessed spots to throw light at a corner of your house or to light objects such as paintings.
Do you want to add a little color to a room? Discover the downlights where you can change the color with the remote control. Every color turns any room in your house into a statement that people will be happy to stay with. Rectangular downlights can easily illuminate a room with different spots in a ceiling or wall. This allows you to give your home or office more atmosphere and spread the light evenly. Why not choose recessed spotlights as your main lighting of your spaces? A floor lamp or table lamp can always offer extra lighting in your room if you opt for recessed spotlights as main lighting.
The range of rectangular spotlights are not only perfect for the use of a contemporary living room or bedroom. Your finished kitchen or bathroom can also be stylishly brightened up. No idea what to choose? The versatile range consists of various options, from simple white to chrome effect. So you can fully experiment with the style that best suits you and your space.
Where to start?
You start with a lighting plan, either from a lighting designer, your contractor or yourself if you feel qualified. It is useful if you understand the different tasks of lighting and how recessed spotlights can be used effectively.
Choose the type of lighting
There are three types of lighting that you can use to illuminate your home. All three are based on the type of lamp used. You have glowing lights, fluorescent and LED. In addition to the type of lighting, the housing and upholstery also play a prominent role.
Why would you buy your rectangular recessed spots at My Planet LED? We are a service-oriented lighting shop and we deliver your order as well nationally as internationally. Our customers say we provide an excellent personalized service! 
It's not always easy to make a choice in a wide range. Therefore, we can help you with our advice. Contact us for more advice.

The payment possibilities are versatile and secure! In addition, we are member of a quality mark which controlls if their members follow all the customer legislations. Do you hesitate about a rectangular recessed light? No problem! You can use our 14 days return policy. This allows you to see if it fits well. And of course, you can count on the excellent service of My Planet LED. 

Unfortunately not all varieties of downlights are available at My Planet LED. We keep you informed of the status of your order. After receiving your payment, we treat your order. 
Once we receive the downlight in rectangular shape, we will inform you of the delivery.

Do you have more questions? Do not hesitate to mail us ([email protected]) or by phone (+32)  57 466 866 in order to obtain more information about rectangular downlights.