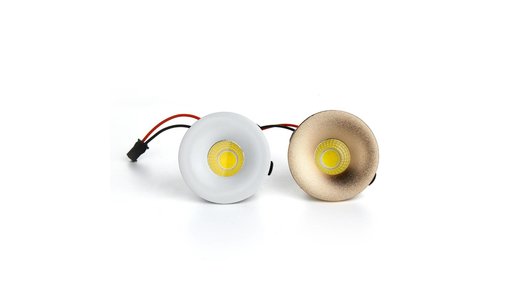 Dimmable downlights
Looking for dimmable downlights? Look at the wide and interesting range at My Planet LED ✔ 2 years guarantee ✔ Satisfied or money back ✔ Different styles ✔
Read more
Do you have places in your home where you want bright light? Or do you have places that do not need to be bright at all? It can sometimes be difficult to determine the correct strength of the lighting for a particular spot. Even if you opt for recessed spotlights, you will be faced with the question of how strong the lighting of your recessed spotlights should be in certain places. With recessed spots you already have an advantage that they are hidden away in the ceiling. But this can also be a disadvantage. If a recessed spotlight only emits bright light and you just need dimmed light at that location, this can be annoying. The same applies if you have a recessed spot with weak light and you need bright light. Dimmable recessed spotlights are the solution for this. With built-in spots that are dimmable, you can determine the strength of the light yourself.

Advantages of dimmable downlights
The biggest advantage of dimmable recessed spotlights is that you can determine the atmosphere in all rooms of your home. When it starts to get dim outside, you can leave the recessed lights dimmed. If it is dark at night, the lighting can turn on more strongly, or not if you want to achieve a cozy atmosphere. Whether you want a warm atmosphere, or a bright business atmosphere, with a dimmable downlight this is possible. Finally, you benefit from the versatility of dimmable downlights. You can place spotlights that are dimmable almost anywhere in your home. The living room, the bedroom and the bathroom, but also under a roof in your garden is a dimmable recessed spot to look good and practical. There are even recessed spots that are dimmable with a remote control.

Choose dimmable LED downlights
To make your home as energy-efficient as possible, replacing all your lights with LED lights is the easiest step. For your recessed spotlights, it is also advisable not to opt for the classic halogen recessed spotlights, but for LED recessed spotlights. Led downlights are very durable and last for many thousands of hours. A big advantage of LED recessed spotlights is that they are often dimmable. This makes it even easier to choose dimmable recessed spotlights and to fully benefit from the advantages of dimmable lighting.
Buy your dimmable downlights at My Planet LED
Why would you buy your dimmable downlights at My Planet LED? We are a service-oriented lighting shop and we deliver your order as well nationally as internationally. Our customers say we provide an excellent personalized service! 
It's not always easy to make a choice in a wide range. Therefore, we can help you with our advice. Contact us for more advice.

The payment possibilities are versatile and secure! In addition, we are member of a quality mark which controlls if their members follow all the customer legislations. Do you hesitate about a dimmable recessed spotlight? No problem! You can use our 14 days return policy. This allows you to see if it fits well. And of course, you can count on the excellent service of My Planet LED. 

Unfortunately not all varieties of downlights are available at My Planet LED. We keep you informed of the status of your order. After receiving your payment, we treat your order. 
Once we receive the dimmable downlight, we will inform you of the delivery.

Do you have more questions? Do not hesitate to mail us ([email protected]) or by phone (+32)  57 466 866 in order to obtain more information about dimmable downlights.