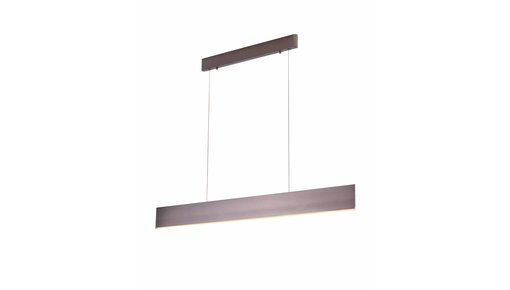 Long hanging lights
Looking for long hanging lights? Look at the wide and interesting range at My Planet LED ✔ 2 years guarantee ✔ Satisfied or money back ✔ Different styles ✔
Read more
Hanging lamps can mean real added value for the design of the house. Often it is underestimated how important it is to opt for the right form of lighting; after all, it is more than just a functional part of the home. Choosing the right lamps also has a positive effect on the appearance of the home.
If you want to get more out of your interior with solid furniture and decoration, lighting also needs plenty of attention. With long hanging lights you can rarely do a bad buy, and some more information about this category of lamps is welcome.
Long hanging lights are lamps that usually hang from several mounting points on the ceiling. The advantages are worth mentioning, and that is what the following overview does:
1. Long lamps illuminate optimally
One of the biggest advantages of hanging lamps is that a relatively large space can be illuminated. Precisely because of the size of the lamps, they are perfect for rooms with similar dimensions. For example, hanging lamps are perfect as lighting in a large living room, or hanging above a long dining table. In this way the lighting is not limited to a few square meters, and the light is distributed more evenly.
2. Long pendant lights are often used as LED lights
In addition, there are many sustainable options if you opt for long pendant lights. LED lighting is becoming increasingly popular, and LED lights are also more common in this type of lighting. That way you will find the perfect lighting for the room and save you in the long term.
3. Long hanging lights for every interior
Finally, there is a lot of variation within hanging lamps. For example, there are classic-looking lamps with a cast-iron cover, perfect for rustic homes. Industrial lighting is characterized by the use of dimmed light and a sober yet cozy finish. At the other end of the spectrum are the modern models, which are very tightly finished and often come in simple colors such as white or black. The possibilities are extensive, and that gives every interior the chance to find the perfect lighting.
Choosing quality in your search for long hanging lamps

The overview above makes it clear that choosing such lighting is a good idea. However, it is especially important to choose quality, and that is possible if you rely on a specialist like Myplanetled. Do you want to lift your interior up a level? Are you looking for the ideal lighting for your interior, whatever its properties? Then the choice for quality long pendant lights at Myplanetled, within any budget, is a decision you will not regret.
Buy your long pendant lights at My Planet LED
Why would you buy your long pendant lights at My Planet LED? We are a service-oriented lighting shop and we deliver your order as well nationally as internationally. Our customers say we provide an excellent personalized service! 
It's not always easy to make a choice in a wide range. Therefore, we can help you with our advice. Contact us for more advice.

The payment possibilities are versatile and secure! In addition, we are member of a quality mark which controlls if their members follow all the customer legislations. Do you hesitate about a long hanging light? No problem! You can use our 14 days return policy. This allows you to see if it fits well. And of course, you can count on the excellent service of My Planet LED. 

Unfortunately not all varieties of pendant lights are available at My Planet LED. We keep you informed of the status of your order. After receiving your payment, we treat your order. 
Once we receive the long pendant lamp, we will inform you of the delivery.

Do you have more questions? Do not hesitate to mail us ([email protected]) or by phone (+32)  57 466 866 in order to obtain more information about long hanging lights.