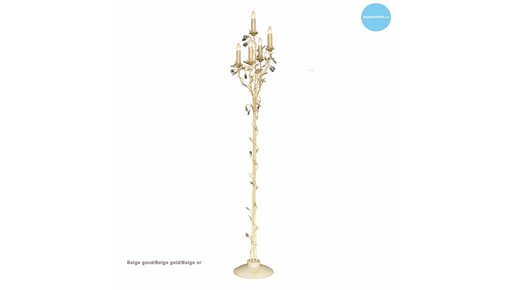 Golden floor lamps
Looking for golden floor lamps? Look at the wide and interesting range at My Planet LED ✔ 2 years guarantee ✔ Satisfied or money back ✔ Different styles ✔
Read more
Gold is a precious metal and does not oxidise (rust or discolour). It is also called the king of metals and is highly sought after. Objects that are gold-coloured radiate luxury. This is also the case with golden floor lamps. They offer a particularly luxurious sight.  
The different styles of gold floor lamps
Gold floor lamps often have a design style or a classic style. These days there are also many gold design floor lamps with colour combinations, for example a black exterior with gold interior.
The classic gold floor lamps are more often curled and contain more frills. Within the industrial or country style, we find less gold pendant lamps.
Applications gold floor lamps
Gold floor lamps are very versatile. They fit into many spaces and will often enhance the room. The reflection of the light inside the lampshade gives a warm, intimate feeling. LED filament lamps with a very warm colour temperature (e.g. 2200 Kelvin) are often used. This makes the golden floor lamp stand out even more. 
Within the golden floor lamps there are often 2 types of gold colours: matt and shiny. Shiny gold is the most reminiscent of real gold. Matt gold is a little paler and tends more towards brass.
Buy your gold floor lamps at My Planet LED
Why would you order gold floor lamps at My Planet LED? We are a service-oriented lighting shop and we deliver your order both nationally and internationally. Our customers appreciate us for our personal contact and good service. 
It is not always easy to make a choice within the wide range. Therefore, we can assist you with our advice. On our blog, you will also find a lot of information on, for example, the required lighting strength per room.
Moreover, we are affiliated with a quality mark that ensures that we respect all consumer rules. You can choose your own form of payment. The possibilities are vast and you pay in all security on our payment platform. Still in doubt? Then make use of our fourteen day right of return. So you have enough time to think whether it suits your interior. 
At My Planet LED, unfortunately not every lamp is in stock. Yet we like to keep you informed when your golden floor lamp is delivered. After we have received your payment we will process your order. Once we have received the golden floor lamp, we will inform you about the delivery.
Do you have any questions? Please contact us by phone (+32) 57 466 866 or by e-mail ([email protected]) to receive more information about golden floor lamps.