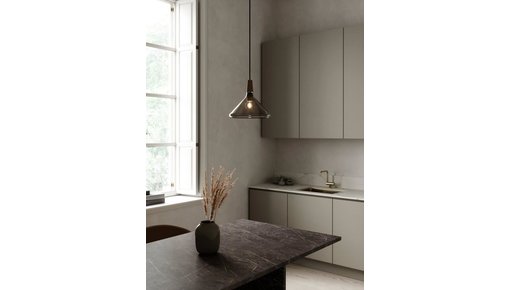 Smoked glass pendant lights
Here you will find our hanging lamps in smoked or fumed glass. Classy lighting for a warm atmosphere in your interior.
Read more
The magic of fumed glass is irresistible
Luminaires with glass are beautiful. One can become lyrical about smoked glass pendant lights; they are forms of glass and metal that capture, contain and distribute light in the space. Passing between opaline (milk glass), colored and transparent layers, emphasized by the refined curves and magic of blown glass, the light is free to create surprising and fascinating effects, patterns and moods. We at My planet Led have understood this well to give the necessary attention to fumed glass.
Which lamps with fumed glass fit in which room?
Lamps with fumed glass can be used for various applications. For example , they are a perfect suspension to illuminate your kitchen island , but also a waterfall effect staircase . You can also create a seductive light atmosphere with incandescent lamps , which provides a dramatic aesthetic, whether on at night or displayed in daylight. It is also ideal for installations in commercial areas such as bars and restaurants. Fumed glass has applications that are very functional, but above all they can give a very strong atmosphere in any room, ranging from mysterious, catchy, chic, tough, sober and so on. They are beautifully refined and give any interior a refined look.
Use our search filter, then your search for a lamp with fumed glass will be a lot easier
Our range is wide, so you can find a cone-shaped hanging lamp with the same ease . These lamps also have the finesse that you find with a lamp with fumed glass . The problem can be that sometimes you can't figure it out and actually like every lamp and want to take it home. However, by smart filtering you can easily make a choice from all those beautiful lamps and you will soon have a number of lamps that are completely to your liking. Choosing remains difficult, but it becomes a lot easier this way.