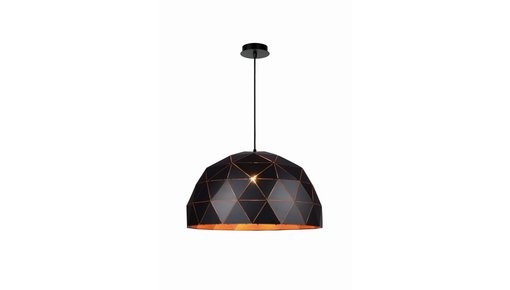 Metal pendant lights
Looking for metal pendant lights? Look at the wide and interesting range at My Planet LED ✔ 2 years guarantee ✔ Satisfied or money back ✔ Different styles ✔
Read more
Choosing the right lighting is one of the best things that can be done to improve living comfort. But stylish lamps also have a positive influence on the look and feel of the room - in addition to functional solutions, solid lamps are also an interior solution.
The choice of lamps depends on a number of factors, such as the desired style, budget, the surface of the room, and so on. Another important factor, however, is the material that makes up the lamp. Metal is one of the most common materials, for lamps for both private and business purposes. What can be expected in the search for metal hanging lamps is a question that requires a clear answer!
The added value of metal pendant lights
Metal may not seem to be the best option for a homey situation, there are indeed plenty of metal hanging lights that fit perfectly in a stylish design. Of course, such lamps are also useful in commercial buildings, thanks to their sober and industrial appearance.
Metal pendant lights do not have to be boring and old-fashioned: there are enough metal models that still look cozy, and then thanks to the use of the right colors and decorations. For example, there are many metal hanging lamps with a semi-circular lampshade decorated with geometric patterns; the ideal option for an industrial setting. Modern metal pendant lights are slightly tighter, and that is where the glossy finish and the use of a basic color such as black stand for.
Yet metal can even give an artistic impression, as long as it is used in the right way with a lamp. There are plenty of examples of metal hanging lamps that stand out thanks to their impressive geometric shapes and the unique light they emit. Finally, Eastern hanging lamps are also part of the range: they fit perfectly in similar households due to the combination of their large size and symmetrical patterns and finish.
Choosing metal LED lamps, a smart move
More and more households and companies opt for LED lighting, which is logical: not only are such lamps much more durable than the traditional ones, there are also numerous versions for different furnishing styles and applications. LED lighting is often used in lamps for business purposes, for example in company buildings or factories. The Scandinavian style often makes use of such lighting, since sustainability and the use of natural materials are central here.
Metal pendant lights for an industrial look
If there is one style where metal pendant lights fit perfectly, then it is industrial. Many people opt for an industrial interior, since it is the middle between cozy and relaxing, and tight and modern.
In that case, metal lamps are the ideal option; for example, models with a matte gloss finish and a simple design. Such metal hanging lamps provide optimum illumination of the room, while maintaining the sober impression that is so important in industrial homes. Finding the perfect light bulbs is quite a task, but considering metal-based chambers makes it a lot easier!
Buy your metal pendant lights at My Planet LED
Why would you buy your metal suspension lights at My Planet LED? We are a service-oriented lighting shop and we deliver your order as well nationally as internationally. Our customers say we provide an excellent personalized service! 
It's not always easy to make a choice in a wide range. Therefore, we can help you with our advice. Contact us for more advice.

The payment possibilities are versatile and secure! In addition, we are member of a quality mark which controlls if their members follow all the customer legislations. Do you hesitate about a metal pendant lamp? No problem! You can use our 14 days return policy. This allows you to see if it fits well. And of course, you can count on the excellent service of My Planet LED. 

Unfortunately not all varieties of pendant lights are available at My Planet LED. We keep you informed of the status of your order. After receiving your payment, we treat your order. 
Once we receive the metal pendant light, we will inform you of the delivery.

Do you have more questions? Do not hesitate to mail us ([email protected]) or by phone (+32)  57 466 866 in order to obtain more information about metal pendant lights.