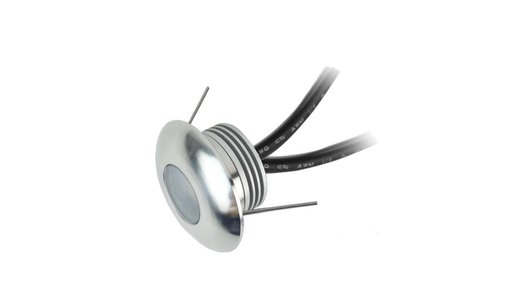 Chrome downlights
Looking for chrome downlights? Look at the wide and interesting range at My Planet LED ✔ 2 years guarantee ✔ Satisfied or money back ✔ Different models ✔
Read more
The versatility of chrome downlights
Recessed lights continue to gain in popularity. This also applies to recessed spotlights in chrome, nowadays often - or almost always - provided with LED lighting. The popularity can be explained by the relative lack of clarity and the fact that with built-in spotlights chrome the perfect base and accent lighting is conceivable. Anyone who opts for chrome downlights must first think carefully about the mounting location and things such as directionality and light color.
Wide opening angle
Recessed spots of silver colored transition metal (chrome) are available in various styles and designs and from large to small. If you want to install downlights in chrome, be aware of the diameter of the chrome recessed spotlights and matters such as mutual distance and position. This simplifies the concrete bores that you have to perform if you want to install the chrome downlight correctly. Also realize that the width of the light beam of recessed spotlights chrome can be very different. The recessed spot chrome in the kitchen should have a wide opening angle, that is different if you want to accentuate a piece of furniture in the room with new spotlights chrome.
External power supply / 220V
You usually also opt for chrome downlights for LEDs. Most people use 230V LED (often with GU10 connection). Sometimes you can also work with an external power supply. Led is attractive because of the energy saving and the much longer lifespan. Besides good for the wallet, this is also good for the environment. Know very well where the downlights should be placed. Once you have confirmed them, it is not so easy to move them. Also think carefully about how many recessed spots you want in which room. Meanwhile there are also directional recessed spotlights on the market.
Waterproof downlights chrome
Also fun - especially for chrome downlights - is a dimmer that often provides extra cosiness in the room. It is certainly important to check the IP value, something that every lamp has. This value reflects the degree of protection against water and dust. This is important, because certain rooms, just think of the bathroom, naturally require a different kind of lighting. In the bathroom, the lamp must have at least IPX4. The chrome spots can finally give warm or cool light. Warm stands for cosiness, cold is the ideal lighting for example in the office.
Buy your chrome downlights at My Planet LED
Why would you buy your chrome downlights at My Planet LED? We are a service-oriented lighting shop and we deliver your order as well nationally as internationally. Our customers say we provide an excellent personalized service! 
It's not always easy to make a choice in a wide range. Therefore, we can help you with our advice. Contact us for more advice.

The payment possibilities are versatile and secure! In addition, we are member of a quality mark which controlls if their members follow all the customer legislations. Do you hesitate about a chrome recessed spotlight? No problem! You can use our 14 days return policy. This allows you to see if it fits well. And of course, you can count on the excellent service of My Planet LED. 

Unfortunately not all varieties of downlights are available at My Planet LED. We keep you informed of the status of your order. After receiving your payment, we treat your order. 
Once we receive the chrome downlight, we will inform you of the delivery.

Do you have more questions? Do not hesitate to mail us ([email protected]) or by phone (+32)  57 466 866 in order to obtain more information about chrome downlights.