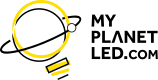 About My Planet LED
My Planet LED is an online and physical shop, specialized in LED lighting in all different applications and lighting fixtures. We are also specialized in project lighting. The environment is very important for us. Every effort to reduce the CO2 consumption is essential for the surviving of our planet. As LED lighting consumes very little, we promote this as much as possible.
Quality mark (Webwinkelkeur, European trust mark)
My Planet LED is member of "Webwinkelkeur", an independant quality mark that controls if we respect the rules of online sales. If needed, they can also interfere if complaints cannot be solved in mutual consultation.
Webwinkelkeur also sends for every order a mail to our customers in order to get an evaluation about My Planet LED. These comments cannot be manipulated by My Planet LED.
Please read more about "Webwinkelkeur" here: 

Our customers
Below, you find some comments of our customers:
William D.: 
Quick delivery and light looks great and delivers wonderful light levels which I have not found elsewhere in an energy efficient light. Bit of a pain fitting - I had to correct a small manufacturing error which would have made it impossible to fit in situ, but I sorted this on the table where it was no problem.
Joris B.: 
delivery as promised.
Hans S.:
Top.
Chris W.:
Great communication.
Our company information:
My Planet LED
Pilkemseweg 127/C
Ieper 8900
Belgium

Tel: 0032.57/466.866
[email protected]
BE0821 787 463
IBAN BE 67 3631 0320 3087
BIC BBRUBEBB

Follow us : 

https://www.facebook.com/myplanetled/
https://www.instagram.com/myplanetled/
https://www.pinterest.com/myplanetLED/
https://twitter.com/Myplanetled


Your specialist in lighting
Webshop with free advice!
Free shipping from €30 to Benelux, France & Germany