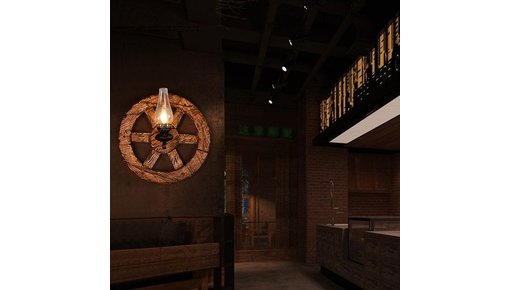 Vintage wall lights
Looking for vintage wall lights? Look at the wide and interesting range at My Planet LED ✔ 2 years guarantee ✔ Satisfied or money back ✔ Different shapes ✔
Read more
Bring the past into your home with vintage wall lights
Taking home vintage furniture is currently very trendy. It seems a little contradictory, because old tables, chairs and lamps can also be experienced as old-fashioned. The vintage what is meant here are not the original old products, but products that are made with a nod to the past. You buy a new product, but in the style of the 60s, 70s or even earlier. This allows you to recover the atmosphere from these years that you experienced at the time. This also applies to vintage wall lamps. Vintage wall lamps are not corny, but very trendy and incredibly hip. The younger generation will also feel at home with a vintage wall light.

The range of vintage wall lights
In today's hectic society the need for home feeling is growing. This is often a nostalgic feeling and is reminiscent of earlier times. The range of vintage wall lights can therefore vary greatly from one another and depends on the time period that the style relates to. For example, do you think of the 1950s? It was the times after the war and the Netherlands was under construction. New electrical appliances made their appearance in Dutch households and furniture was designed to be especially functional. Bright and light colors were used and experiments were done with new materials, but the design was still sober. This is also reflected in the 50s vintage wall lamps. Wall lamps that relate to the 60s and 70s look very different again. The dining table with hanging lamp no longer formed the center of the living room. This became the seating area with television. Vintage wall lights from this time period can have the craziest forms, because concerning design everything was allowed. Wall lights in vintage style in bright colors were not at all strange at the time. Whatever theme you take for your vintage wall lights, you get something unique in your home that is still classic and at the same time very trendy.

Industrial wall lamps
Industrial interior styles are also very trendy nowadays. This is also vintage, because this style dates back to the 19th century. Only it is a style that is derived from the large factory halls of the industrial revolution and that has slowly been introduced into homes. If you have an industrial living style, then industrial wall lights fit perfectly. Characteristic of industrial wall lamps is the use of metal. This gives you strong and very durable industrial wall lights that last for a very long time.
Buy your vintage wall lights at My Planet LED
Why would you buy your industrial wall lights at My Planet LED? We are a service-oriented lighting shop and we deliver your order as well nationally as internationally. Our customers say we provide an excellent personalized service! 
It's not always easy to make a choice in a wide range. Therefore, we can help you with our advice. Contact us for more help.

The payment possibilities are versatile and secure! In addition, we are member of a quality mark which controlls if their members follow all the customer legislations. Do you hesitate about a vintage wall light? No problem! You can use our 14 days return policy. This allows you to see if it fits well. And of course, you can count on the excellent service of My Planet LED. 

Unfortunately not all varieties of wall lamps in vintage style are available at My Planet LED. We keep you informed of the status of your order. After receiving your payment, we treat your order. 
Once we receive the industrial wall lamp, we will inform you of the delivery.

Do you have more questions? Do not hesitate to mail us ([email protected]) or by phone (+32)  57 466 866 in order to obtain more information about vintage wall lights.