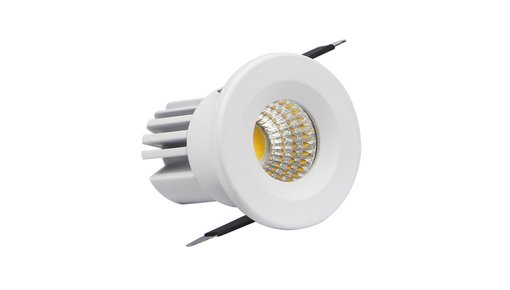 Low profile downlights
Looking for low profile downlights? Look at the wide and interesting range at My Planet LED ✔ 2 years guarantee ✔ Satisfied or money back ✔ Different models ✔
Read more
If you want to have easy lighting without luminaires, recessed spotlights are a great alternative. Although spotlights are also available, recessed spotlights ensure a seamless and tight finish. With built-in spots your lighting is neatly concealed in the ceiling or in the wall. It saves you space and you do not have to clean lamp fittings. Yet you can enjoy enough light. Recessed spots are available in various sizes, so that you can find the right recessed spot for every spot in your home. A limitation on recessed spotlights can be the installation depth. Recessed spots with low installation depth are the solution.

Why low profile downlights?
Recessed spots are very beautiful in the ceiling or in the wall, but behind this lamp is a piece of technology concealed. This internal housing must therefore be concealed in the ceiling or wall and that can sometimes cause problems. For example, do you have an older home where it is impossible to lower your ceiling? Or do you already have a suspended ceiling with a low installation depth? The installation of recessed spotlights with a regular installation depth can then be quite a challenge. In some cases, a transformer has to be installed behind the ceiling, which makes the space even tighter. Placing low profile recessed spotlights is the perfect solution. These low profile downlights are ideal if you have little space to get rid of the housing of your recessed spotlights. A low downlight requires only minimal space. These low profile recessed spotlights are available in minimum dimensions of 15 to 30 millimeters and therefore fit perfectly into your ceiling. A big advantage is that many of the current recessed spotlights are equipped with LED lighting. LED lighting takes up significantly less space than the classic recessed spotlights with halogen lighting. This makes it possible to keep the internal housing of recessed spots with limited height small.

Types of downlights with low installation depth
If you opt for low recessed spots, you will have the same wide choice of types and types of recessed spotlights as if you had opted for recessed spotlights with regular dimensions. You can still choose from different types of housings that are mounted on the outside of the ceiling in various sizes. You can also choose from different shapes, from square to round and from fixed spots to tiltable recessed spotlights. With a low downlight, you do not have to compromise on quality and appearance. And most important of all is perhaps that you do not give in on the amount of light that produces a low profile downlight. It is also advisable to choose dimmable recessed spotlights. This way you can regulate the intensity of your lighting yourself. This is how you see: even with limited space it is perfectly possible to install recessed spotlights.
Buy your low profile downlights at My Planet LED
Why would you buy your downlights wiht low profile at My Planet LED? We are a service-oriented lighting shop and we deliver your order as well nationally as internationally. Our customers say we provide an excellent personalized service! 
It's not always easy to make a choice in a wide range. Therefore, we can help you with our advice. Contact us for more advice.

The payment possibilities are versatile and secure! In addition, we are member of a quality mark which controlls if their members follow all the customer legislations. Do you hesitate about a low profile recessed spotlight? No problem! You can use our 14 days return policy. This allows you to see if it fits well. And of course, you can count on the excellent service of My Planet LED. 

Unfortunately not all varieties of downlights are available at My Planet LED. We keep you informed of the status of your order. After receiving your payment, we treat your order. 
Once we receive the low profile downlight, we will inform you of the delivery.

Do you have more questions? Do not hesitate to mail us ([email protected]) or by phone (+32)  57 466 866 in order to obtain more information about low profile downlights.