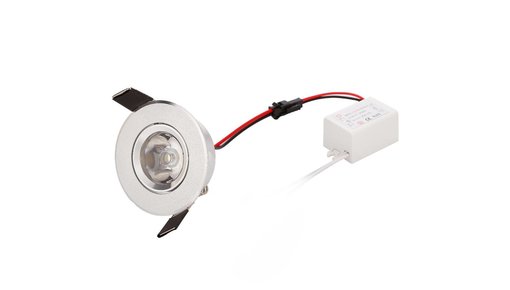 Tiltable downlights
Looking for tiltable downlights? Look at the wide and interesting range at My Planet LED ✔ 2 years guarantee ✔ Satisfied or money back ✔ Different styles ✔
Read more
More freedom with tiltable downlights
With spotlights you can achieve a beautiful seamless finish of your lighting. Recessed spots will never be annoying in terms of their appearance, because they are built into the ceiling or wall. As a result, you have no big luminaires in the way with lamps and that gives you more freedom. In addition, recessed spotlights can be used for all types of lighting. Recessed spots can be used for bright light, mood lighting or just to accentuate objects. In many cases use is made of fixed recessed spotlights. These recessed spotlights shine their light in one direction. This can be experienced as a disadvantage despite the many advantages of downlights. But this can be solved by using directional recessed spots.

Why use tiltable downlights?
Actually, the answer is simple: recessed spotlights that give you a lot of freedom. You can already enjoy a lot of freedom with recessed spots, but you can experience optimal freedom with a directional recessed spot. It is known that surface spotlights are often directional, but then you still have a fixture in sight. Recessed spotlights that are orientable, despite the fact that they are tightly concealed in the ceiling still directional. A big advantage of this is that you are not bound to a place where the recessed spotlights have to be installed. If you want to have a certain corner or spot in your house well lit, then you will also need to install a fixed recessed spot on that spot. This is not always a problem, but sometimes there is simply no possibility. For example, the ceiling is not suitable for building in a recessed spot, or you can not or do not want to lower the ceiling. The result is that you can not illuminate this spot or if a lamp is still hanging on the wall to illuminate the spot anyway. Is there anything further away a possibility to build recessed spots in the ceiling? Then you place orientable downlights there. Now you can simply focus the spots on the desired spot and you can benefit from sufficient light. Directional downlights also give you more options for creating ambient lighting or accent lighting. Do you have a beautiful painting on the wall or do you want to accentuate an exotic plant? You only need to focus the spotlight on the object.

Tiltable downlights on every spot in your home
Your possibilities are increased with a rotating downlight. Places that you thought could not be illuminated with recessed spots can be illuminated with a rotating recessed spot. Very useful for example in the bedroom where it is not possible to build spots in the wardrobe. You can now point your directional recessed spots on the cabinet. The bathroom can also have its limitations. Tiltable recessed spotlights can be mounted safely in a dry area and aimed at the wet part of the bathroom.
Buy your tiltable downlights at My Planet LED
Why would you buy your tiltable downlights at My Planet LED? We are a service-oriented lighting shop and we deliver your order as well nationally as internationally. Our customers say we provide an excellent personalized service! 
It's not always easy to make a choice in a wide range. Therefore, we can help you with our advice. Contact us for more advice.

The payment possibilities are versatile and secure! In addition, we are member of a quality mark which controlls if their members follow all the customer legislations. Do you hesitate about a directional recessed spotlight? No problem! You can use our 14 days return policy. This allows you to see if it fits well. And of course, you can count on the excellent service of My Planet LED. 

Unfortunately not all varieties of downlights are available at My Planet LED. We keep you informed of the status of your order. After receiving your payment, we treat your order. 
Once we receive the tiltable downlight, we will inform you of the delivery.

Do you have more questions? Do not hesitate to mail us ([email protected]) or by phone (+32)  57 466 866 in order to obtain more information about tiltable downlights.