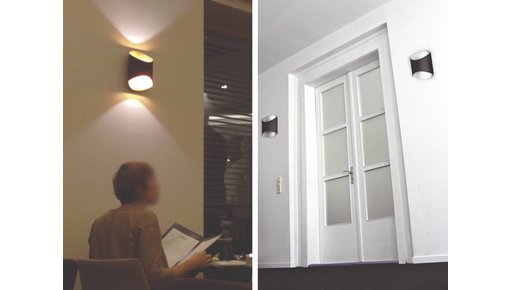 Up down lights
Looking for up down wall lights? Look at the wide and interesting range at My Planet LED ✔ Satisfied or money back ✔ Different styles ✔
Read more
Up and down wall lights as art on your wall
In the past, we were used to housewares being practical above all else. Putting a sofa in the living room just because it's pretty and doesn't sit well at all? That was not possible. Today, it is possible. But that is mainly because design and functionality now go hand in hand. People have high expectations of the design of an object, but also of its ease of use. So it is possible to hang design wall lamps on your wall that are also a form of art. At the same time, you can use these design wall lamps in a very functional way. In the evening, they provide a beautiful atmospheric light that you cannot create with pendant or floor-standing lamps. Our range also includes many different styles of wall lights.
This includes the up and downlighters. These are wall lights that shine downwards and upwards. This allows you to beautifully illuminate the walls and makes the room appear higher. 
Types of up and down wall lights 
There is a wide variety of up and down wall lights. In our range, you will find the perfect design wall lamp that fully meets your taste. We have up and down lights in a classic and modern style. They are the solution if you want to light up your wall or exterior facade in a stylish and luxurious way. 
Buy your up and down wall lights at My Planet LED
Why order wall lights at My Planet LED? We are a service-oriented lighting shop and we deliver your order both nationally and internationally. Our customers appreciate us for our personal contact and good service. 
It is not always easy to make a choice within the wide range. Therefore, we can assist you with our advice. On our blog, you will also find a lot of information on, for example, the required lighting strength per room.
Moreover, we are affiliated with a quality mark that ensures that we respect all consumer rules. You can choose your own form of payment. The possibilities are vast and you pay in all security on our payment platform. Still in doubt? Then make use of our fourteen day right of return. So you have enough time to think whether it suits your interior. 
At My Planet LED, unfortunately not every lamp is in stock. Yet we like to keep you informed when your wall spot in design style is delivered. After we have received your payment, we will process your order. As soon as we have received it, we will inform you about the delivery.
Do you have any questions? Please contact us via telephone number (+32) 57 466 866 or via e-mail ([email protected]) in order to obtain more information about up and down wall lights.