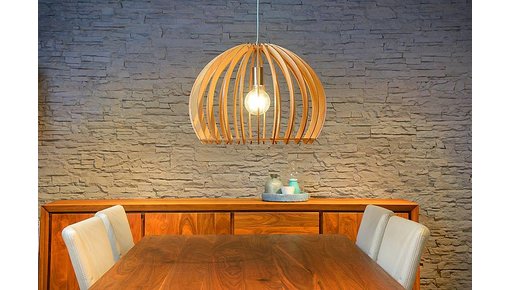 Pendant lights wood
Looking for pendant lights in wood? Look at the wide and interesting range at My Planet LED ✔ 2 years guarantee ✔ Satisfied or money back ✔ Different styles ✔
Read more
Obtaining a stylish and cozy interior is often not an easy task, especially if you pay attention to all the details and want to buy the perfect decoration, furniture and amenities. Depending on the desired style, one will therefore choose a different basis. Lighting is one of those things that people often do not pay attention to, but it is important to give the interior an extra dimension.
If you want to decorate the house in a rural or classic way, pendant lights in wood are exactly what you need. The enormous variety of hanging lamps in terms of size, style and impression makes it possible to find the perfect solution for every situation.
The advantages of pendant lights wood
Hanging lamps are nowadays popular with rural and classic establishments, but modern and Scandinavian styles can also benefit. The advantages of such lamps extend far:
1. Create a relaxed atmosphere
Wood is a natural material, so that the lighting will automatically look more relaxing and restful. Especially for classic and rural interiors, this is a good choice, as it is a nice addition to wooden furniture and decoration.
2. Durable pendant lights with wood
If you opt for a brand, you can also be assured of quality and durability in wooden pendant lamps. Thanks to the use of sustainable wood and a professional finish, the lamps last a long time, which means they can add value to your home for years.
3. Wooden hanging lamps for every interior
Finally, the range of pendant lights is very extensive, so you will find a solution for every style. From hanging lamps with a tight finish in a dark color for modern homes to elegant hanging lamps to obtain a rural impression, the possibilities have been expanded.
The most beautiful wooden pendant lamps
The search for beautiful, functional and sustainable lighting is not always a simple task. The above advantages make it clear that such lamps are a smart purchase - but what types of lamps are there now? An overview of some popular options applies here:
- Pendant lights wood and glass in one
Very popular are hanging lamps that hang from a wooden base and whose lamp shade is made of glass. This combination of materials gives the interior a unique impression that keeps the middle between rural and industrial.
- Modern lamps with a wooden touch
Of course, wood can also be used in modern installations, as long as it is not too bombastic or striking. For example, there are plenty of compact, minimalist hanging lamps that, thanks to their wood color, still fit in a rural atmosphere.
- Classic and decorated pendant lights
In classic or traditional rural households, such lamps also fit perfectly: from lamps with wooden balls as an ornament to vintage models where small lamps in a row provide natural lighting, the possibilities are very extensive.
A pendant wood design is an added value for any style. From small, unobtrusive models for a minimalist interior to larger lamps with a traditional character to achieve a classic atmosphere, the range offers something for everyone.
Buy your pendant lights wood at My Planet LED
Why would you buy your wooden pendant lights at My Planet LED? We are a service-oriented lighting shop and we deliver your order as well nationally as internationally. Our customers say we provide an excellent personalized service! 
It's not always easy to make a choice in a wide range. Therefore, we can help you with our advice. Contact us for more advice.

The payment possibilities are versatile and secure! In addition, we are member of a quality mark which controlls if their members follow all the customer legislations. Do you hesitate about a wooden pendant lamp? No problem! You can use our 14 days return policy. This allows you to see if it fits well. And of course, you can count on the excellent service of My Planet LED. 

Unfortunately not all varieties of pendant lights are available at My Planet LED. We keep you informed of the status of your order. After receiving your payment, we treat your order. 
Once we receive the pendant light in wood, we will inform you of the delivery.

Do you have more questions? Do not hesitate to mail us ([email protected]) or by phone (+32)  57 466 866 in order to obtain more information about pendant lights wood.