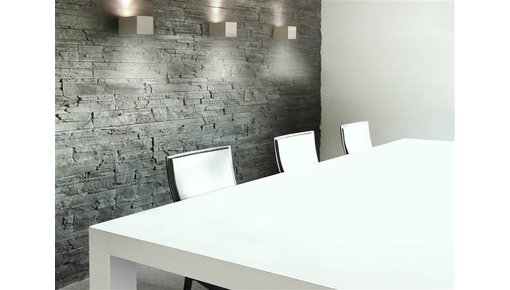 Wall lights
Order your wall lights at My Planet LED! Different styles at atractive prices! Satisfied or money back!
Read more
Are you looking for wall lights? You can order a wide range at My Planet LED. We are one of the biggest online LED light shops and we deliver your order as well nationally as internationally. Our customers say we provide an excellent personalized service!


Wall lights or or wall lamps are fixed to the wall and create an extra atmosphere in house. Besides, they have a decorative aspect. They are not adequate to enlighten a complete room but are mainly used as additional lighting.

We distinguish the following types :

a) Wall lights with uplight and/or downlights : These enlighten the wall descending or ascending and emit indirect light. They are often meant as atmospheric light or background light. Depending on the angle of the fixture, you get a small or wide beam on the wall. These wall lamps also exists with patterns, for instance a triangle (below small and at the upside wide). Nowadays, there are also wall lamps where the beam can be adjusted manually.

b) Wall lights with frontal light : The light of these doesn't shine immediately on the wall but straight forward. The light emitted is less atmosfpheric but rather functional.

c) Orientable wall lights : These are wall lights with an arm or rod on which a lamp shade or fitting is fixed. This can be useful to use it as a reading light or to enlighten objects. In this way, it can also be used as picture lighting.

d) Incorporated wall lights : these are built-in in a wall and are mainly used as night lighting, for instance to enlighten a stairway.

Depending on the effect you wish to obtain, you can make a choice between the above mentioned types. 

You can choose your wall lamps according to different styles :

The forms are also very different : round, oval, square, rectangular, conical, cylindric,...
Depending on the interior and your taste, you can make a choice. The space in which you will use the wall lamp, will be determinant. A wall light for a bathroom will be more functional and waterproof where for the children bedroom, it will more be used as background lighting. Wall lamps are best installed at eye level, +/- 1,6 to 1,7m above the ground. If you would like to order outdoor wall lights, we like to redirect you to our category outdoor wall lights.
Order your wall lights at My Planet LED
Besides our large assortment, there are more reasons why you should order at My Planet LED. With us, you order easyly and quickly your wall lights. Aren't you sure that it is suitable for your house? That's no problem because at My Planet LED, you can use our 14 days return policy. Of course, you can also count on the excellent service of My Planet LED!
Would you like to have more information about wall lights?
Do you have more questions about wall lights? Or would you like to have more information about My Planet LED? Contact us please! You can send a mail at [email protected] or call us at (+32) 57 466 866 in order to obtain more information about wall lights.