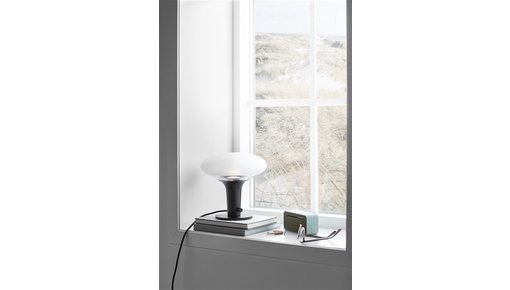 Design table lamps
Looking for design table lamps? Look at the wide and interesting range at My Planet LED ✔ 2 years guarantee ✔ Satisfied or money back ✔ Different models ✔
Read more
Design table lamps are not ordinary table lamps. They are designed with the greatest care and with an excellent eye for aesthetics! Their unique character gives a unique touch to your interior. They are suitable for on a sideboard, desk or large table and provide fine atmospheric light.
Design table lamps come in various shapes and materials and fit perfectly into a modern, designer interior. Their shapes are very diverse: from fairly traditional to more extreme. Frequently used colours are white, black, beige, taupe, gold. Sometimes brighter colours such as red are also used. 
We have table lamps with a lampshade. These mainly create atmosphere and emit light all around. There are also table lamps with an uplight. These emit light towards the ceiling in order to create atmosphere through indirect lighting. The counterpart to this is a table lamp with a downlight. These lamps focus the light downwards. Downlight lamps are often used as desk lamps.
Design table lamps really fit anywhere: in the hall, living room or bedroom. Always ensure that the style of your interior matches the lamp. Design table lamps are available in any price category: from budget to high-end.
A table lamp is used for both functional lighting and atmospheric lighting. You will often find them in the living room or bedroom. There, they give extra light to the readers or illuminate a cosy corner. In this way, you can transform the dark corners of your living room into a cozy spot of light. Our table lamps, which are equipped with a dimmer, are real mood-setters. With the various models in our range of table lamps, you're sure to find one that fits your interior.
Why would you order design table lamps at My Planet LED? We are a service-oriented lighting shop and we deliver your order both nationally and internationally. Our customers appreciate us for our personal contact and good service. 
It is not always easy to make a choice within the wide range. Therefore, we can assist you with our advice. On our blog, you will also find a lot of information on, for example, the required lighting strength per room.
Moreover, we are affiliated with a quality mark that ensures that we respect all consumer rules. You can choose your own form of payment. The possibilities are vast and you pay in all security on our payment platform. Still in doubt? Then make use of our fourteen day right of return. So you have enough time to think whether it suits your interior. 
At My Planet LED, unfortunately not every table lamp is in stock. Yet we like to keep you informed when your table lamp is delivered. After we have received your payment, we will process your order. As soon as we receive the design table lamp, we will inform you about the delivery.
Do you have any questions? Please contact us via telephone number (+32) 57 466 866 or via e-mail ([email protected]) in order to obtain more information about design table lamps.