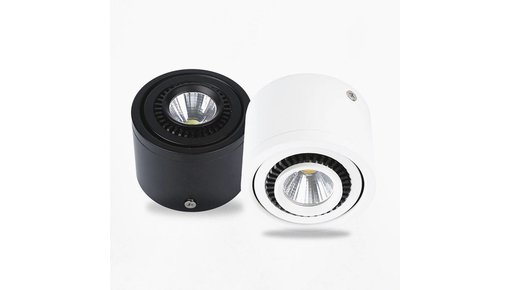 Dimmable ceiling lights
Looking for dimmable ceiling lights? Look at the wide and interesting range at My Planet LED ✔ 2 years guarantee ✔ Satisfied or money back ✔ Different styles ✔
Read more
Looking for dimmable ceiling lights?
With dimmable ceiling lamps and dimmable ceiling spotlights, you create the right amount of light for all your activities. For example, during a dinner with friends, you may prefer to opt for atmospheric twilight. While you put your dimmable ceiling spotlight on full power when reading the newspaper. In short, a dimmable ceiling lamp lets you always set the desired light intensity yourself.
Dimmable ceiling lights are available with a built-in LED formula as well as with traditional, replaceable lamps (retrofit). All traditional lamps can in principle be replaced by LED light sources. The existing luminaires can usually be retained. Only when a luminaire is not equipped with sufficient cooling, it must be renewed. After all, a LED lamp will fail more quickly when it heats up.
LED light sources have the advantage that they are energy-efficient and durable. A LED lamp has a lifetime of up to 50,000 hours. When you leave your LED light source on for 5 hours every day, it will last about 27 years! For comparison: the lifespan of a normal light bulb is only 1000 hours. A LED light, on average, lasts 50 times longer than a traditional lamp. The average energy-saving lamp has a life span of 7500 hours. That is also only one sixth of the life of LED lamps. This has to do with the fact that LED light sources hardly heat up during the burn. The electronics in the lamps are also less fragile than those in traditional lamps. A LED lamp is more resistant to possible vibrations and shocks from the outside.
In short: with LED lighting you save power and you only have to replace your light sources a few times in your life. Friendly for the environment and for your wallet!

Which dimmer do you use for your dimmable ceiling spotlights?
Whether ceiling lamps are dimmable depends on the built-in electronics. If your ceiling lamps are dimmable, it is important to choose the right dimmer. Dimmable ceiling lamps are compatible with most dimmers. Yet not all traditional dimmers are equally suitable in combination with LED lamps. A connection power of 40 or 50 watts is too high for a LED lamp. That is why we advise you to opt for a universal dimmer.
Why would you buy your dimmable ceiling lights at My Planet LED? We are a service-oriented lighting shop and we deliver your order as well nationally as internationally. Our customers say we provide an excellent personalized service! 
It's not always easy to make a choice in a wide range. Therefore, we can help you with our advice. Contact us for more advice.

The payment possibilities are versatile and secure! In addition, we are member of a quality mark which controlls if their members follow all the customer legislations. Do you hesitate about a dimmable ceiling light? No problem! You can use our 14 days return policy. This allows you to see if it fits well. And of course, you can count on the excellent service of My Planet LED. 

Unfortunately not all varieties of ceiling lights are available at My Planet LED. We keep you informed of the status of your order. After receiving your payment, we treat your order. 
Once we receive the ceiling light dimmable, we will inform you of the delivery.

Do you have more questions? Do not hesitate to mail us ([email protected]) or by phone (+32)  57 466 866 in order to obtain more information about dimmable ceiling lights.