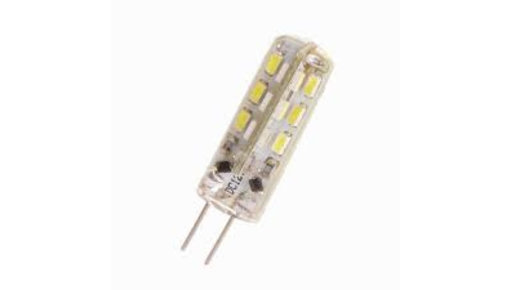 G4 LED lamps
Order a mini lamp LED G4? Visit quickly My Planet LED | Large choice | Buy immediately | Satisfied or money back!
Read more
G4 LED lamps are small plug-in lamps with pins spaced 4 mm apart. These lamps operate on 12 V and require a transformer before they can be connected to the mains. The plug-in fitting ensures that older halogen lamps can be replaced easily. They also fit into the smallest fittings. Please note that the dimensions of G4 LED lamps may differ from the halogen version.
The features of a G4 LED bulb
A G4 LED bulb is the ideal replacement for the halogen G4 bulb, but beware, the size of the bulb may differ slightly. So be sure to ask us for advice via the contact information below. Furthermore, this lamp is very energy efficient. A normal G4 lamp, for example, lasts 2000 hours on average, while a G4 LED lamp has a life span of 15000 hours. 
Order your LED G4 bulb at My Planet LED
You can buy your LED G4 lamp at My Planet LED and there are more reasons why you should order from us. With us you can easily and quickly order your favourite LED G4 lamp. Are you not sure if this LED G4 lamp has the right colour or size? That's no problem, because at My Planet LED you can use our fourteen day return policy. Of course you can also count on the excellent service of My Planet LED! 
Would you like more information about a LED G4 lamp?
Would you like additional information about a certain LED G4 lamp or are you looking for a type that you do not immediately find?  Or would you prefer more information at My Planet LED? Then get in touch with us! You can reach us at telephone number (+32) 57 466 866. You can also contact us via the e-mail address [email protected]. One of our staff will be happy to answer your questions.