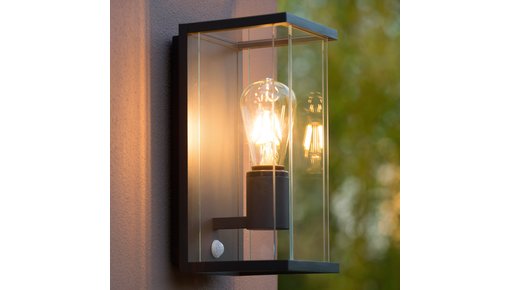 Wall light with sensor
Looking for a wall light with sensor? Different models in various styles at attractive prices! 2 years guarantee!
Read more
Your specialist in lighting
Webshop with free advice!
Free shipping from €30 to Benelux, France & Germany
Are you looking for a wall lamp with a sensor? Then you have come to the right place at My Planet LED! At My Planet LED you will find a wide range of wall lights with sensor. You can find your sensor wall light in different sizes, shapes or wattages. At My Planet LED you will find the right wall lamp with sensor! 
The characteristics of a sensor wall light
A sensor wall light for outdoors must be water resistant because they often get wet. For an overview of the degrees of water resistance, you can find more information here.
Often IP65 is sufficient for an outdoor wall light. A wall light with sensor can exist in different models, sizes and wattages. The colour of the sensor wall light can sometimes be chosen as well. With the integrated motion sensor, you have numerous possibilities. Once an object passes by, it switches on. Don't worry: you can also regulate the lux. For example, you can set it to 2000 lux during the day, which means that it will be off when you need it to be off!
The detection distance can also vary from one wall lamp to another. Do you need help in choosing your sensor wall light or other outdoor lighting? Contact us at [email protected].
Order your sensor lamp at My Planet LED
Would you like to buy your sensor lamp outdoors at My Planet LED and you have doubts about the beam or the colour? No problem: at My Planet LED you can use our fourteen day return policy. Of course you can also count on the excellent service of My Planet LED! 
Would you like more information about a wall light with sensor?
Would you like additional information about an outdoor wall light or are you looking for a type that you do not immediately find?  Or would you prefer more information at My Planet LED? Then please contact us! You can reach us at telephone number (+32) 57 466 866. You can also contact us via the e-mail address [email protected]. One of our staff will be happy to answer your questions.